Russian composer Nikolay Yakovlevich Myaskovsky's works always had an introspective and fatalistic quality and carried the 19th-century Russian qualities of symphonic music to a new level. After Stalin's rise to power in 1928 and the institution of Socialist Realism became the flavor of the day, Myaskovsky stopped composing for a few years and then wrote his 11th and 12th symphonies to try and follow the new style. His Symphony No. 13, however, revered back to his older style. It's more like his 7th and 10th symphonies than the two that precede it.
Written over the early months of 1933, the symphony received its premiere in Chicago on 15 November 1934. The Chicago Symphony Orchestra, led by Frederick Stock, a long-time champion of Myaskovsky, had given the US premiere of his 12th symphony in 1932 and would go on to do the US premieres of many of his works. Stock was the Music Director of the CSO from 1905 to 1942.
The work wasn't well received and after its premiere in Moscow in December 1934, it wasn't played again for 60 years.
In the 1920s and '30s, Myaskovsky was regarded as the leading symphonic composer in the USSR. His symphonic works include 27 symphonies, 3 sinfoniettas, 2 concertos and works in other orchestral genres, 13 string quartets, 9 piano sonatas and vocal works, but no operas. The political actions of the early Soviet era inspired works such as Symphony No. 6, which looked at the events of 1917-21.
Symphony No. 13 is in one movement but with three contrasting sections: Andante moderato, Agitato molto e tenebroso, and Andante nostalgico. It is one of the most dissonant of Myaskovsky's works and, at the same time, it's considered his most individual and characteristic works.
Nikolay Yakovlevich Myaskovsky: Symphony No. 13 in B-Flat Minor, Op. 36 (Ural Youth Symphony Orchestra; Alexander Rudin, cond.)

The Ural Youth Symphony Orchestra, conducted by Alexander Rudin, takes the work with assurance. Cellist and conductor Alexander Rudin is known for his work with youth orchestras and is a professor at the Moscow Conservatory. He also has the title of People's Artist of Russia.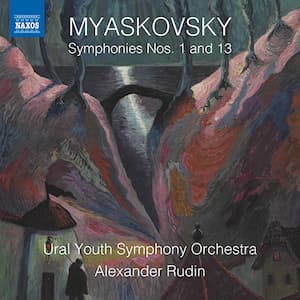 Nikolay Yakovlevich Myaskovsky: Symphony No. 13 in B-Flat Minor, Op. 36

Performed by
Alexander Rudin
Ural Youth Symphony Orchestra

Official Website
For more of the best in classical music, sign up to our E-Newsletter