In 1773, Mozart completed his Piano Concerto in D major, K. 175, after he had returned from a trip to Salzburg where he was unsuccessful in getting a court position. This is the first concerto of Mozart's maturity – opening with a bold statement in the orchestra and working through the music of consistent creativity. The slow movement is lyrical and matches the piano with the orchestra, both weaving their themes together. The final movement made contrapuntal writing very important: it starts like a fugue and the cadenza is introduced by something that sounds very much like a four-part canon. In March 1782, Mozart wrote a new final movement, adding a flute to the ensemble.
What's curious is the limited range of the piano in the original K. 175 and it is thought that he might have originally written the work for organ. The new final movement, a Rondo, consists of a series of variations that is technically more difficult than the original finale. One writer commented that the new movement might be more demanding on the artist, but that a variation movement was much easier on the audience than a canon and fugue movement.
Mozart played the K. 175 / K. 382 at his first public concert in Vienna on 3 March 1782. Mozart wrote to his father that the new finale was 'making … a furore in Vienna'. By rewriting the work to be more acceptable to the Viennese audience, Mozart was firmly marking his move from Salzburg to Vienna and working to appeal to the more aesthetically mature audience. Mozart needed to establish his reputation and through that, establish an income, something he had a problem with off and on over his whole career.
Mozart specialist Jean-Victor Hocquard commented on the work: 'what an exquisite mixture of melancholy and banter in the fourth variation! What finesse in the opposition between the oboes and the horns under the piano trills in the fifth variation! What charm in the ornamentation of the adagio! And what mischievous merriment in the ternary transformation of the conclusion'.
Wolfgang Amadeus Mozart: Rondo for Piano and Orchestra in D major, K. 382

This movement was recorded in 1956 in Vienna at the Mozart-Salle in the Konzerhaus, with Paul Walter conducting the Pro Musica Orchestra of Vienna, with Ingrid Haebler (b. 1929) as soloist.
Austrian pianist Haebler made her name with her complete set of Mozart's piano sonatas; she also recorded nearly all of Mozart's piano concertos. She made her first public appearance at age 11; Robert Casadesus saw her perform as a child and predicted a great future for her. Haebler appeared with many of the leading orchestras of the day and at the principal festivals. She also appeared as a recitalist and chamber music player. As a duo recitalist, she often performed with the violinist Henryk Szeryng.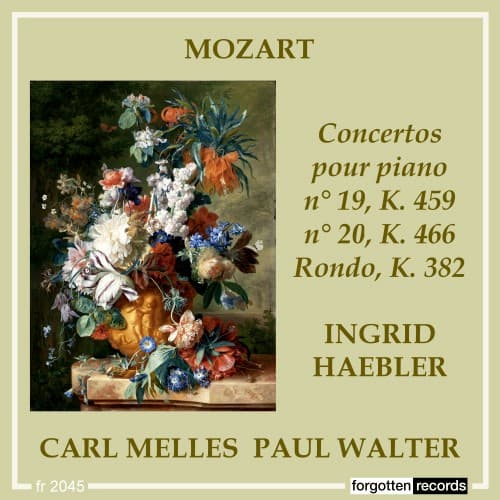 Performed by

Ingrid Haebler
Paul Walter
Orchestre Pro Musica, Vienne

Recorded in 1956

Official Website
For more of the best in classical music, sign up for our E-Newsletter