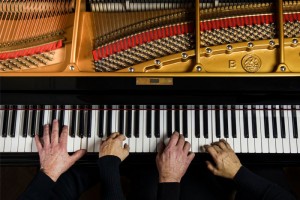 The piano duet – four hands sharing one keyboard – was once an important part of musical activity, to be enjoyed at home and in the cultural salons of Europe during the 19th and early 20th centuries, and in more modest times it was an acceptable way for young people, particularly of the opposite sex, to get together. The genre became popular in the 18th century: as a child, Mozart played duets with his sister and went on to write six sonatas for piano duet and a number of other shorter works for four hands. Mozart delighted in the possibilities of the form: the opportunity to explore richer textures and dialogues across a single keyboard, and Schubert took this further in his Rondo in A major, D951, the Allegro in A minor (known as the "Lebenssturme" or Storm of Life) and the what is arguably the greatest piece for piano four hands, his Fantasie in F minor. A work of great beauty, emotional depth and technical intricacy, this work proves that the piano duet was no salon sweetmeat for bourgeois young ladies to enjoy at home. A large-scale work lasting nearly twenty minutes, it remains a pinnacle of the piano four hands concert repertoire.

Schubert: Fantasie in F minor D940

During the nineteenth century, the piano duet became increasingly popular, alongside the development of the modern piano as we recognise it today. Improved mass production meant pianos could be manufactured more cheaply and it soon became the "must have" instrument for the modern home. Composers and especially music publishers capitalised on this by producing a wealth of sheet music for amateur pianists to enjoy. There are countless arrangements of orchestral, chamber and choral works for piano duet, giving players access to an enormous and highly varied repertoire. A number of works for duet remain perennially popular including Brahms' Hungarian Dances and Dvořák's Slavonic Dances, Fauré's charming Dolly Suite (written for Dolly Bardac, the daughter of the composer's mistress), Debussy's lyrical
Petite Suite
and Ravel's
Ma mère l'Oye
(Mother Goose), all of which have been orchestrated.
Dvořák: Slavonic Dance in G minor
There's a unique intimacy in the piano duet and a special etiquette must be observed when playing. For this reason, you need to be on friendly terms with your duet partner! The players sit very close together at the keyboard, often their hands will touch or cross over (Debussy's Petite Suite contains much hand-crossing between the players), and each must be alert to the other's part, sensitive to details of tempo, dynamics and musical expression, while details of pedalling and page-turns need to be agreed in advance. Well-written piano four hands repertoire gives almost equal opportunities to both pianists (such as Debussy's Petite Suite), making it rewarding and enjoyable to play, and duets are great for students too, teaching them about voicing of different melodic lines, balance between the registers of the piano, timing and the give-and-take between two musicians.
Thomas Johnson – The Lady of Brazil
While some works for piano duet are undoubtedly aimed at children or junior players or are light-hearted in tone, others, written specifically for the genre, are highly complex, technically and musically challenging, such as Poulenc's Piano Sonata for Four Hands, Stravinsk'y Rite of Spring and works by Rachmaninoff and Messiaen. Some of the greatest pianists of the 20th century have enjoyed the very special relationship of the piano duet, including Martha Argerich and Daniel Barenboin, Radu Lupu and Murray Perahia, and Cyril Smith and Phyllis Sellick, the great British piano duo from an earlier era. The Labèque sisters, Katia and Marielle, are the most famous piano duo in the world. They have created a foundation to commission new works for piano duo and orchestra, in addition to performing well-known and much-loved music for piano four hands around the world.

Poulenc – Sonata for Four Hands
Bach/ Bernstein – Bridal Suite: Prelude