This new anthology is a result of EVC Music's #CallToWomenComposers worldwide search for talented but not yet published women composers and includes new piano works by twenty-two women composers inspired by Chopin's Nocturnes.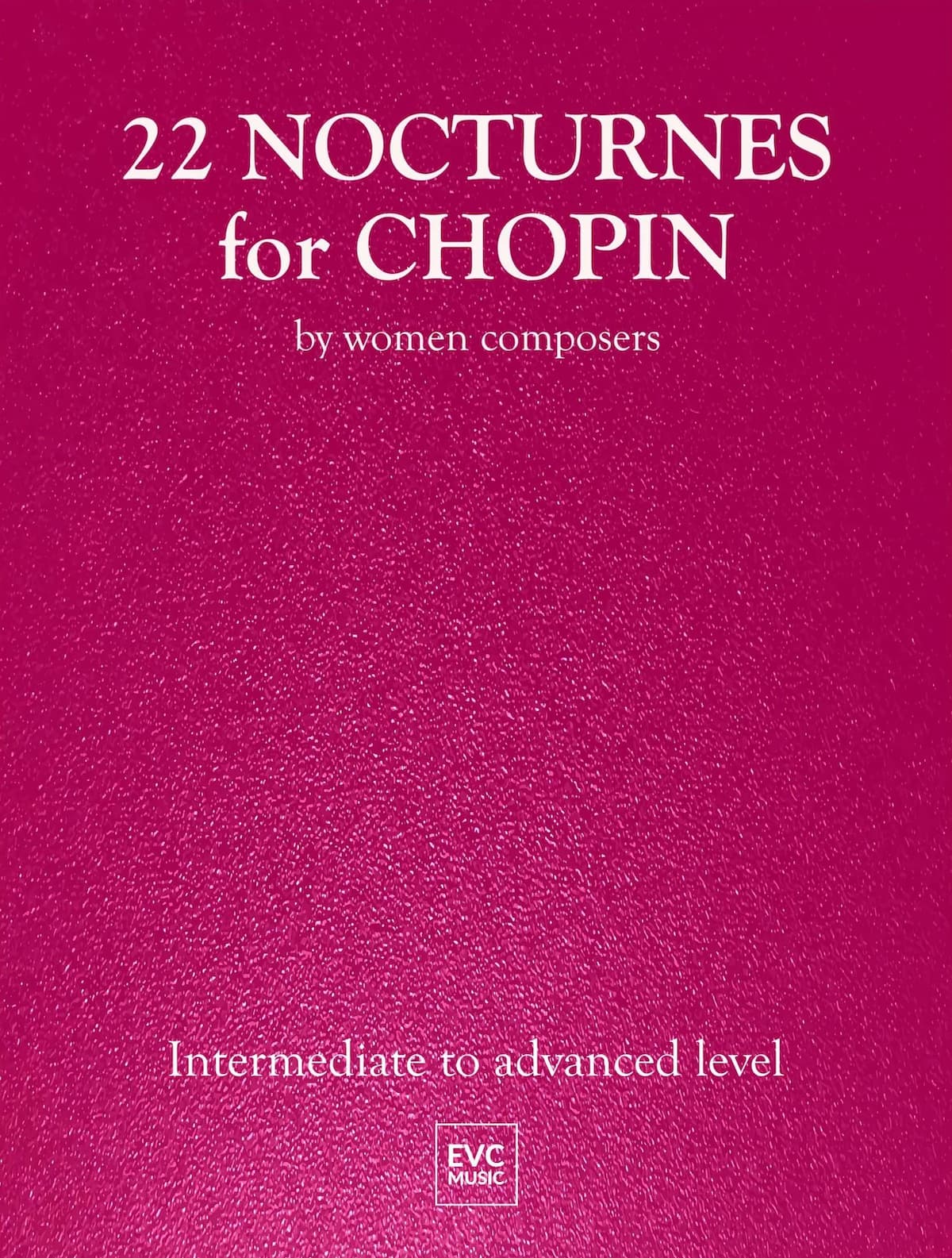 The project was initiated by Rose McLachlan, talented daughter of Scottish pianist and pedagogue Murray McLachlan, as part of her Masters degree. Applications were open to women composers aged 14+ and EVC Music received over eighty pieces in a variety of styles from romantic to experimental. The pieces were selected blind: the selection committee was presented with 'nameless' scores, and sixteen pieces were chosen in addition to six pieces commissioned from established women composers.
Chopin dedicated almost all of his piano works to a woman; for example, his Op25 Etudes are dedicated to Marie d'Agoult, and other works were dedicated to female friends or talented students. Thus, this new anthology of piano music by women composers completes the circle, as it were.
The featured composers are from the UK, Ukraine, Israel, Poland, Canada and the USA. Most have not been published before; some have contributed pieces to exam syllabuses; each brings their own authentic voice to their music, and the result is a varied collection of music of intermediate (cGrade 6) to advanced level (cGrade 8).
Many of the pieces display the typical characteristics of Chopin's Nocturnes (and indeed John Field's before him), with flowing, arpeggiated accompaniments, songful, lyrical melodies embellished with ornaments, fiorituras, improvisatory or cadenza-like passages, and chromaticism. The harmonies are in general consonant, with some unexpected piquancies or key shifts which add interest and character to the music. Interestingly, almost all the pieces are scored in a minor key. Some feel very close to Chopin's originals, and the uninitiated listener could be forgiven for thinking some of these pieces are actually by Chopin. This may be because some are directly inspired by specific Nocturnes (e.g. Nos. 8, 13, 19, 20), while others are influenced by other works by Chopin or by Bellini's Bel Canto arias, which inspired Chopin himself (e.g. No. 12 Triste by Victoria Proudler). Some take their inspiration from literary or poetic sources and the natural world (e.g. No. 17 Waves Collide with the Precipice by Charlotte Botterill); a handful take a rather more leftfield approach, incorporating more ambiguous or atonal harmonies and rhythms inspired by ragtime and jazz (No. 22 by jazz pianist and composer Zoe Rahman). All are infused with the nostalgia, poignancy, and Zal of Chopin's music.
This is an interesting and attractively produced anthology, with clear engraving on thick cream paper. A QR code links back to the publisher's website with information about the composers and brief notes on each of their Nocturnes, plus audio links to listen to each one.
As an introduction to the Nocturne genre as well as an anthology of brand new piano music for intermediate to advanced students, this is a welcome addition to the repertoire and a useful resource for teachers and students who may wish to study attractive contemporary Nocturnes alongside Chopin's originals.
22 Nocturnes for Chopin is published in the UK by EVC Music
For more of the best in classical music, sign up for our E-Newsletter
22 Nocturnes for Chopin by Women Composers Launch at Steinway Hall London