Multicultural Folk Music Traditions From Various Places
With all this talk of a globalized society it is easy to forget that we are surrounded by the timeless beauty and grace of countless multicultural folk music traditions. That rich ethnic heritage of human culture and creativity has spawned some very exciting performing ensembles, and in "Walkin' round the World" we will sample some of these vibrant and exhilarating traditions.
Wales
Let's get started with a vibrant five-piece folk band named "Calan" that is breathing new life into traditional Welsh music. Their performances feature sparkling melodies, foot tapping tunes and a spirited and energetic performance of Welsh step dancing. The group formed in 2006, and by 2008 they would become the first Welsh band to win the coveted international band competition at the Inter Celtic Festival. The band formed when some members were roughly 13 years of age, and they still continue to make music today. Patrick Rimes was a junior Celtic Welsh fiddle champion for three years running, and Bethan Rhiannon, winner of the national clog dance competition in Wales, sings in both English and Welsh. Fiddler Angharad Jenkins is well versed in the poetry and music of Wales, and Alice French is an experienced and versatile harpist, who plays both a pedal harp and the folk harp.
Calan: "Synnwyr Solomon"
Calan blast their way through some of the old favorite reels, jigs and hornpipes with fast paced and uplifting arrangements before melting into some of the most beautiful and haunting songs. They play fiddles, whistles, guitar, accordion and bagpipes and a traditional reed instrument from Wales called a "pibgorn" made from a wooden pipe and the horns of a bull. They have also reached beyond traditional venues and performed at the Royal Albert Hall alongside Bryn Terfel and Sting as part of Bryn's 50th birthday celebration. "Folk" is no longer a dirty word, as Calan performs with grace, daring and sheer joy. And did I mention boundless enthusiasm and a delightful sense of humor?
Calan: "Tale of Two Dragons"
Tuva
For our next "Walkin' round the World" location we arrive at Tuva, a forgotten land located between Russia and Mongolia. Situated in the far south of Siberia, its capital city of Kyzyl is located near the geographic center of Asia. Once upon a time, this historic region was called "Tannu Uriankhai" and the Tuvan people have a rich tradition of orally transmitted folklore, including riddles and aphorisms, tongue twisters, magical tales and extended epics. Tuva is also home to the music group "Huun Huur Tu," meaning "sunbeams," (literally "sun propeller"). The focus of their music is traditional Tuvan folk songs, frequently featuring imagery of the Tuvan steppe or of horses. The most distinctive characteristic of Huun Huur Tu's music is throat singing, in which the singers sing both the note (drone) and the drone's overtone(s), thus producing two or three notes simultaneously. This popular style of Tuvan throat singing known as "Khoomei," produces a softer sounding style with the harmonics heard between one or two octaves above the fundamental. Pitch is manipulated through a combination of movements of the lips, throat, tongue or jaw. This particular singing style has been described as "wind swirling among rocks."
Huun-Huur-Tu: "Aa-Shuu Dekei—oo"
The animistic worldview of this region identifies the spirituality of objects in nature, not just in their shape or location, but in their sound as well. As such, the human mimicry of nature's sounds is considered the root of throat singing, and cultures in this part of Asia have developed many instruments and techniques to mimic the sounds of animals, wind and water. Tuvan throat singing is traditionally sung by a soloist, or a group of soloist, and accompanied by a percussion section imitating the sound of horse hooves. Many groups also use traditional Tuvan instruments, including a bowed instrument called the "igil," and a Jaw-harp called a "khomus," among various other unique string instruments. Throat singing was once only a folk tradition, but it is now embraced as an emblem of Tuvan identity and more often performed by professionals in formal settings.
Huun-Huur-Tu: "Sixty Horses in my Herd"
Vienna
If you are fortunate to find yourself in the city of Vienna and you have an evening to spare, head for the next "Heurigen." Basically, these are local pubs numerously located throughout the suburbs of Vienna where you can eat rustic and delicious food and taste the young wine. And a visit to the "Heurigen" is always associated with a particular kind of music that emerged in late 19th century Vienna. It ingeniously blended folk music elements with art music and it is named after the originators, the violinist brothers Johann and Josef Schrammel. Both were highly talented musicians, and Johann attended the Vienna Conservatory. Josef, on the other hand, performed Viennese music in Istanbul and the Middle East, and once the brothers were reunited in Vienna, the stock market crash of 1873 gave them their chance at stardom. They joined the great folk music entertainer Georg Dänzer, and along with Anton Strohmayer built a reputation as players of folk and dance music. By 1878 they had formed a dedicated quartet that became known as the originators of "Schrammelmusik."
Neue Wiener Concert Schrammeln: "Schau ma eini"
"Schrammelmusik," as it is called, soon took suburbia by storm, and it also became the latest rage in the palaces and mansions of the Viennese elite. Their popularity even extended to an 1893 invitation to perform at the International Exposition in Chicago. Traditionally, the ensemble consisted of two violins, a double-necked contra-guitar and a G clarinet, with an optional button accordion added for rustic colour. The repertory included marches, folk music and traditional forms of dances, including the waltz, the polka, and the Ländler. Communicating a sense of melancholy and sentimentality, "Schrammelmusik" eventually also included the "Wienerlied," a vocal genre using Viennese dialect in a popular blend of comic and mournful topics. In all, the Schrammel brothers composed over 200 songs. Even composers of more formal music, including Johann Strauss, Johannes Brahms and Arnold Schoenberg became Schrammel enthusiasts. The Schrammel genre is still a living tradition, and recently combined with blues, jazz and rock to shape an exciting 21st century reinterpretation.
Roland Neuwirth & Extremschrammeln: "Lass alles lieg'n"
Bulgaria
For our next stop on our "Walkin' round the World Tour" let's visit Bulgaria. The hilly and mountainous topography of Bulgaria made contact between villages difficult, and during the winter months, impossible. As such communities evolved in relative seclusion and the country is divided into six ethnographic regions: "The Shop, or Sofia district, Pirin-Makedoniya in the southwest; Rodopa, comprising the Rhodope Mountain region along the southern border; Trakiya, the central Thracian plain; Dobrudzha, in the northeast; and the area known simply as 'Northern Bulgaria' in the northwest. Songs formed the basis of village musical culture, and across the entire region, they were performed for specific events in the calendar, life-cycle rites, during work, and for entertainment. "Playing instruments and singing were considered separate, gender-specific activities. Instrumentalists almost never accompany singers, and women rarely played indigenous instruments. Although it was not uncommon for men to sing, women acted as the primary bearers of an oral singing tradition." Bulgarian music uses a wide variety of regionally different indigenous instruments, including the "Kaval" a rim-blown wooden flute, the "Tsafara" or Shepherd's pipe, the "Duduk" a vertical wooden flute, and the "Gayda" a traditional goatskin bagpipe. We also find a bowed string instrument called "Gadulka," a large drum worn over the shoulder called "Tupan," and the "Tambura," a long-necked, metal-strung fretted lute.
Ensemble Chinary: "Shopsko horo"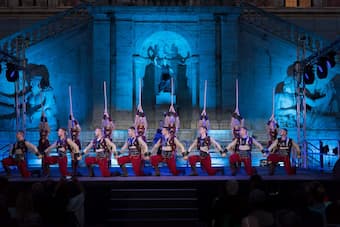 Bulgarian folk music is known for its asymmetrical rhythms, where the meter is split into uneven combinations of short and long metric beats. In essence, they correspond to the short and long steps during dancing. Each basic folk dance type uses a distinct combination of these rhythmic units. The "Rachenisa" features seven beats divided 2+2+3, the "Paydushko Horo" features five beats organised 2+3, the "Eleno Mome" has seven beats divided 2+2+1+2, and the very complicated "Bucimis" subdivides its 15 beats as 2+2+2+2+3+2+2). Bulgaria experienced some seriously tumultuous political times during the middle of the 20th century. "The political events of 1944 resulted in the institutionalization of all musical activities within a monolithic network of state administrative organs whose representative bureaus extended into every city, town, and village, and whose structure and ideals emulated those of Soviet cultural development." A substantial number of professional folksong and dance ensembles started to emerge, with the objective to preserve the performance of village music in a contemporary format representative of the socialist state. The ensemble "Chinary" was founded after the fall of the iron curtain, and includes professional dance artists, musicians and singers. The repertoire of the ensemble includes dance and song traditions of all folklore regions of Bulgaria. "The performances of Chinari are unique in terms of modern staging on production of traditional Bulgarian folklore, and offer an incredibly successful combination of talent, beauty, youth and professionalism."
Ensemble Chinary: "Mystic Drums"
United States
For our next stop on the "Waking' round the World" tour we travel to the Appalachian region of the United States. Basically, it's a cultural region that stretches from the Southern Tier of New York State to northern Alabama and Georgia. Bluegrass, a genre of American music originated in that particular region in the 1940s, is derived from the English and Scottish ballad tradition, Irish and Scottish fiddle music and African-American blues influences through the inclusion of the five-string banjo. Unlike mainstream country music, bluegrass is traditionally played on acoustic stringed instruments. Since it blurs the categories of folk, popular, and classical music as much as any American genre, "its exact definition is a matter of debate." Typically, a bluegrass band consists of four to seven individuals who sing and accompany themselves on acoustic string instruments: two rhythm instruments (guitar and double bass) and several melody instruments (fiddle, five-string banjo, mandolin, resonator guitar, and second guitar). Lead instrumentalists take solo breaks between verses of a song and provide a harmonic and rhythmic background often in a responsorial relationship to the vocal part. The bluegrass repertory included traditional folksongs and newly composed sentimental secular songs, country blues, religious songs, revival hymns, and instrumental numbers. The majority of bluegrass music unfolds in duple meter with rhythmic emphasis on the off-beats, and tempos are generally fast and very exciting.
Southern Raised Bluegrass: "Orange Blossom Special"
Scotland
Our final stop on this particular "Walkin' round the World" tour brings us to Scotland, and to Scotland's premier tribal band "Clann an Drumma." Originally founded by Joe Kilna MacKenzie, who sadly passed away in 2010, they have continued to bring Scottish tribal music to worldwide audiences. The name of the band, which is Scots Gaelic for "Children of the Drum," quickly gives you some idea what their music is all about. It involves the heavy use of percussion and Highland bagpipes, and the band's motto is "Keep it Tribal." Based in Glasgow, this tribe features Donnie MacNeil on pipes. That lone piper matches his excellent chops against Tu-Bardh Wilson, Jacquie Holland, Joe Kilna MacKenzie and Jamesie Johnston, all providing solid layers of drums and percussion. Actually, they are keeping alive a tradition going back hundreds of year, when the sounds of drums and bagpipes would accompany the Scottish warriors who fought in legendary battles.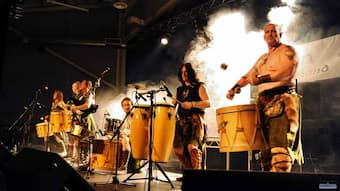 Of course, the bagpipe is usually associated with Scottish folk music, but the origins of that instrument if found throughout large areas of Europe, North Africa, and South Asia. The earliest mention of bagpipes in Scotland dates to the 15th century although they are believed to have been introduced to Britain by the Roman armies. The pìob mhór, or Great Highland Bagpipe, was originally associated with both hereditary piping families and professional pipers to various clan chiefs; later, pipes were adopted for use in other venues, including military marching. But wait, "Clann an Drumma" isn't your traditional bagpipe music. Of course, the tunes are mostly traditional pieces carried by the pipes, but when the percussion kicks in it turns into a thunderous new world. And when the four tattooed drummers add vocalizations, which is often wordless, sometimes shouting, it becomes music that you can actually feel pulsing through your body. If nothing else, it will get your heart racing and your foot tapping.
For more of the best in classical music, sign up to our E-Newsletter
Clann an Drumma: "Bloodline Mix"