The revival of the 2014 production by Pier' Alli features a top cast led by one of the most exciting sopranos of the moment in her (fully staged) role debut of the challenging Bellini heroine. Carmen Giannattasio possesses the precious combination of a rich, treacle-like middle register combined with assured top notes, enthusiastically delivering the rarest E-flat at the end of the second act duet
"In mia man' alfin tu sei"
. And in spite of the vocal heft, she maintains the necessary agility for the demanding embellishments, rapid-fire scales and subtle diminuendos that are the hallmark of the
bel canto
composers.
Carmen Giannattasio – Bellini – Norma "Casta Diva"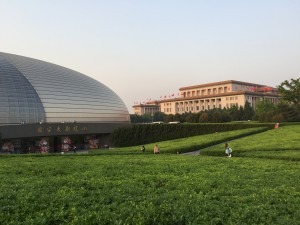 Her acting as the High Priestess of the Druids was equally assured yet never overbearing and she remained a cooperative ensemble performer in spite of her vocal superiority. Her erstwhile lover Pollione, the Roman Consul in Gaul, was sung by tenor Massimo Giordano who boasted an elegant stage presence with a warm and flexible voice. Nidia Palacios as Adalgisa, the young priestess who is also in love with the Roman invader, delivered some moments of great beauty, particularly in the duet "Mira o Norma". Oroveso was luxuriously cast with Chinese star bass Hao Jiang Tian who held the clear home advantage, as did the noteworthy Yu Yongzhao who confidently sang the bit role of Pollione's sidekick Flávio.

It wasn't entirely clear what in conductor Daniel Oren's performance sent the audience to raptures. The China NCPA Orchestra sounded thin and mildly soporific and the tempi tended to drag. But the maestro is clearly hugely popular, and was widely praised for his work with the young orchestra (established only in 2010), and his skill at guiding the singers through this tricky score. He garnered outsized recognition from the already noisy audience.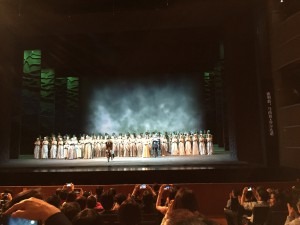 Chorus and dancers were proficient though would have benefitted from more spirited direction, particularly an avoidance of the dancers/soldiers marching in what looked like lunges, and making other gestures more appropriate for the gym than the stage.

The sets were not hugely inventive yet the simple imagery of shields, tree branches and interspersed video projections served its purpose without providing any insight or much dramatic tension.

Judging by the stellar cast assembled by the NCPA as well as the audience reaction, Beijing might have a bright operatic future.



The iconic egg-shaped structure of Beijing's National Centre for the Performing Arts (NCPA) sits forbiddingly surrounded by a man-made lake. It's easy to miss the entrance ramp which leads to the box office lobby, the electronic ticket readers and the airport grade security complete with metal detector gates and manual checks. Not the feel of a regular opera night. Yet the NCPA clearly has ambitions to put on world class opera, most recently Vincenzo Bellini's crowd pleaser Norma.