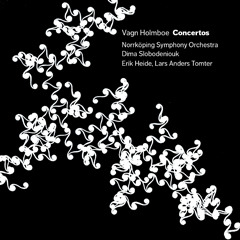 Viola Concerto Op. 189
I. Allegro moderato, ma con forza
Erik Heide, violin
Lars Anders Tomter, viola
Norrköping Symphony Orchestra
Dima Slobodeniouk, conductor
From Vagn Holmboe Concertos (2013)
Released by Dacapo
Vagn Holmboe: Viola Concerto Op. 189 – I. Allegro moderato, ma con forza

About Vagn Holmboe (1909 – 1996)

The spirit of folk culture plays an important role in the music of the Danish composer Vagn Holmboe. As was the case with Béla Bartók (one of Holmboe's most important sources of inspiration), folkloristic studies have here contributed significantly to the compositional process. Holmboe is the most influential Danish composers of the generation after Carl Nielsen and his large output includes twelve symphonies, chamber concertos, and a long series of extremely fine string quartets.