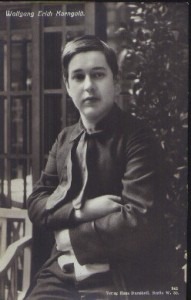 Erich Wolfgang Korngold's parents named him after Mozart. Against all odds, Erich lived up to the hype by becoming one of the greatest prodigies in music history.

The little boy was born in May 1897 in Brünn (now Brno in the Czech Republic). His mother was an amateur pianist and singer named Josefine, and his father Julius was a pianist, tenor, and music critic.

Julius had a huge personality. As a music lover, he knew exactly what he liked and what he didn't. Atonality and jazz were anathema. He ridiculed his son for liking Stravinsky's Petrushka. But he didn't object to all new music: he called Gustav Mahler a genius at a time when not a lot of people did. Julius's talent as a critic got him noticed, and when Erich was four, the family moved to Vienna so that Julius could take a job at the Neue Freie Presse. (He took over from Eduard Hanslick, the famously conservative critic who loved Brahms and loathed Wagner.)


Unlike most other parents, the Korngolds were delighted when their toddler son began banging kitchen utensils together. They believed this noisy play heralded a great future in music. By the time he was five, Erich was picking out melodies from Don Giovanni on the piano. (One wonders, did the little boy know he was named after the tunes' composer?) A delighted Julius brought Erich to the Vienna Conservatory, where the boy began taking lessons from Robert Fuchs.

Erich wrote his first piano pieces at the age of eight. A cantata called "Gold" soon followed. Julius, being Julius, brought Erich to Gustav Mahler the next year to see what he thought. Mahler was hugely impressed by "Gold," calling its composer a genius. He recommended that Erich study with Alexander von Zemlinsky, a well-known composition teacher in Vienna at the time, which he did from mid-1907 to mid-1911.

That being said, Erich's artistic growth was occurring so effortlessly, it seemed like he didn't even need a teacher! At eleven, he wrote his first big piece: a ballet called Der Schneeman, or The Snowman. Der Schneeman launched Erich into superstardom. The ballet began life as a piece for four-hand piano, then later was arranged for orchestra by Zemlinsky himself…and in October 1910 the orchestral arrangement was presented by imperial decree at the Vienna Hofoper! Erich was only thirteen.

Der Schneeman: Moderato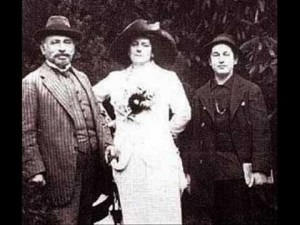 Julius was eager to hear others' opinions of his wunderkind, so he paid for the private publication of the score to Die Schneeman and sent it to various musical celebrities. Julius's stunt raised awareness of Erich's talents, and a series of jaw-droppingly prestigious performances followed. Erich's first piano trio was debuted by none other than Bruno Walter (internationally renowned conductor and pianist) and Arnold Rosé and Friedrich Buxbaum (concertmaster and principal cello of the Vienna Philharmonic, respectively). Artur Schnabel premiered, championed, and toured with his second piano sonata. In the fall of 1913, the Vienna Philharmonic played the 45-minute-long Sinfonietta he wrote when he was fifteen. And in 1916 he premiered two short operas, Der Ring des Polykrates and Violanta. These works guaranteed him a place as one of the great Germanic opera composers of the day…before he was out of his teens!

Piano Trio in D Major, Op. 1 : I. Allegro no troppo, con espressione
Piano Sonata No. 2 in E Major, Op. 2: III. Largo, con dolore
Sinfonietta in B Major, Op. 5: I. Fliessend, mit heiterem Schwunge
Not even the first world war could interrupt Erich's charmed life. After he was drafted in 1916, a doctor recognized him and exempted him from service at the front. Instead, he supported the war effort by giving concerts and leading the regimental band. The independence must have been terrifying – and exhilarating. Julius once wrote that the coddled Erich didn't walk down the street by himself until he was in the army!

Korngold's first post-war triumph was the 1919 opera Die tote Stadt, written when he was 22. He may have been an adult, but he still couldn't escape the influence of his father: he and Julius secretly collaborated on the libretto. (It was years before the secret of its authorship got out!) Glamorous simultaneous premieres occurred in Hamburg and Cologne on the night of December 4, 1920, and the work was a huge success in Vienna. Die tote Stadt even had the honor of being the first German opera performed at the Metropolitan Opera in New York after the war was over.

Die tote Stadt: Act I: Prelude – Scene 1: Behutsam! (Brigitta, Frank)
Korngold's later career wasn't as dazzling as his earlier one. It wasn't long before the late romantic style that Julius had championed so intensely fell out of style. Eventually, much to his father's dismay, Erich began writing for Hollywood films. (In fact, he basically invented movie music as we know it, employing compositional techniques pioneered by giants like Wagner and Richard Strauss.) Today, Korngold's works are being revisited and re-evaluated. Maybe the extraordinarily precocious pieces by this twentieth century Mozart will find their way into the repertoire again.