"An instrument is always beautiful"


A grand piano is a striking piece of fine furniture, and even a baby or boudoir grand brings elegance, class and grandeur to a room.
The design of the grand piano, as we know it today, was established in the nineteenth century. Innovations such as a cast iron frame, allowing much greater string tensions, and aliquot stringing (the use of extra, un-struck strings) gave grand pianos a more powerful sound, with a longer sustain and a richer tone, but the basic shape of the piano has not changed significantly in the last 150 or so years.
Poul Henningsen (1894-1967) was a Danish designer, architect, author and critic. Known in Denmark simply as 'PH', he was a major figure in the country's cultural life in the inter-war years. He is most famous for his glare-free lamp designs; still manufactured today, these design classics are instantly recognisable with their three-shade system to reflect and baffle light from the bulb to create warm, soft lighting. He also designed furniture utilising curved polished chrome and leather.
He believed that everyone, not just the elites and the bourgeoisie, had the right to enjoy functional, well-designed and aesthetically pleasing environments, and this ethos was fundamental to his designs which were intended to improve people's day to day quality of life.
In 1930 Poul Henningsen designed "something entirely new" – a grand piano, the result of a commission from a Danish piano company called Andreas Christensen. With its curvaceous form and innovative use of materials, the PH piano is strikingly futuristic, ground-breaking and unconventional, even by today's standards.
Henningsen's Bauhaus-influenced sensibilities led him to design a grand piano which challenged the traditional concept of the instrument. Whereas the grand piano's workings and mechanism are traditionally hidden within its case, Henningsen decided that the very core of the instrument should be revealed to audience and player. He created an instrument of chromium-plated steel (as used in his furniture designs), lacquered wood and leather, with a minimalist lid, redolent of a dragonfly's wing, made from Plexiglas (then a new and expensive material) which allowed both the functionality and the innate beauty of the piano's inner workings to be appreciated. With its fluid, organic lines, the PH piano is lighter and less obtrusive than a traditional grand. No longer a black shiny box of wood and wires, the PH grand piano combines functionality, beauty and sleek modernism – at once a graceful piece of furniture and an elegant, powerful instrument.
"My idea was that the piano is one of the very few instruments that is played inside its box. A violin, after all, is taken out of its case. The traditional wrapping of the piano has therefore always been a piece of furniture in the style of the time. I wanted to make it an instrument and maybe even improve the sound of it." – Poul Henningsen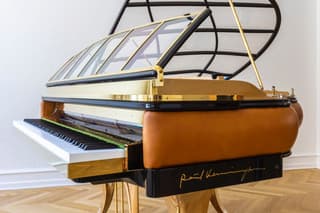 Henningsen followed this design with the Bow piano, another unique design whose birds eye maple, high gloss black and polished brass case harks back to the understated elegance of Biedermeier furniture of the nineteenth century. With its deconstructed lines, its lid a series of waves which allow sound to be evenly distributed from the piano, the PH Bow piano mirrors the famous PH lamp – an aesthetic which is seen in later architectural designs such as Sydney Opera House or Norman Foster's Armadillo Building in Scotland.
Based in Copenhagen, PH Pianos was started some 10 years ago by CEO Soren Vincents Svendsen after finding an amazing PH piano at auction. Svendsen then acquired Copenhagen Piano, and secured an exclusive agreement with the Poul Henningsen Estate to make and market PH pianos.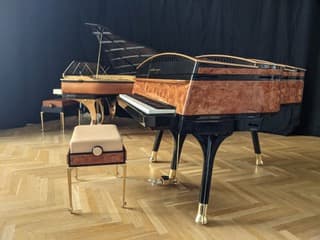 For PH pianos, this is a gift and a huge responsibility, and everything is done with the utmost of integrity and care to produce these elegant instruments with the finest materials and partners possible. Each instrument is handmade according to precise measurements taken from the originals, using top-quality materials and craftsmanship, and the instruments can be customised to order. PH Pianos use the piano action from several high-end European piano makers, including Blüthner and Petrof with a Renner action, thus guaranteeing superior tone, sound projection and touch.
"We are producing the designs but have not reinvented the 'engine' of the piano (neither did Poul Henningsen)" says Christine Eggert, of PH Pianos, herself a concert pianist.
To celebrate the arrival of two new pianos, the PH Grand Legacy Edition and PH Bow Grand Legacy Edition, PH Pianos invited 12 pianists from the Royal Danish Academy of Music to perform and record a selection of Chopin's Etudes, thus giving these young professionals an opportunity to experience PH Pianos and to showcase the music of Chopin, a composer who really appreciated the full range of the piano's capabilities and subtleties of tone and touch.
Chopin: Ocean Etude, performed by Dominik Wizjan
Chopin: Etude in E flat, Op 10, no 3, performed by Lana Suran
The PH Grand Piano Legacy Edition is crafted entirely in Europe, by today's most skilled artisanal makers, using only European materials. At 157 cm long, it is a similar size to a Steinway Model S, and has brass legs, pedals, music desk, and trim, with PH Piano's Black Copper colour painted wooden parts, and cognac leather. The PH Bow Grand Legacy Edition is made from stunning American Red Maple Burl wood, finished in high gloss. The lid of the PH Bow Grand Piano is crowned with four bows or arcs, and the instrument is supported by three elegantly angled legs, with metal accents in brass. It is 159 cm long and is thus the perfect "boudoir" grand for apartments, private homes, restaurants or lobbies.
The Phoenix Central Park, a cutting-edge arts venue in Sydney, Australia, boasts both the PH Bow Grand and the PH grand piano with the glass lid, here played by Australian pianist and composer Sally Whitwell:
Sally Whitwell: Tiny Dances
There is no doubting the uniqueness and beauty of Poul Henningsen's piano designs; these are instruments which can really play at the highest level too.
"A piece of furniture can be both beautiful and ugly – an instrument is always beautiful" – Poul Henningsen
For more of the best in classical music, sign up to our E-Newsletter