2021 marks 100 years since the birth of Astor Piazzolla, and the inaugural year of the Piazzolla Music Competition. The competition aims to celebrate the legacy of the composer synonymous with the reinvention of the tango, and the winner will receive a tour to China, in addition to scooping a $1,500 USD prize ($3500 for ensembles) and a recording contract with label PARMA Recordings.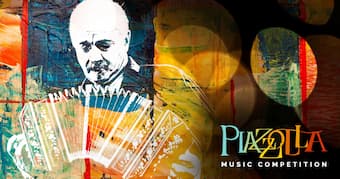 CEO of PARMA Recordings, Bob Lord, is looking forward to the first year of this exciting competition and is proud to be supporting it. 'We wanted to because of a few reasons,' he explains. 'First, we are all admirers of Piazzolla's music, we all have been for a long time. It's so embedded in the global culture now, which is wonderful to see […]. Various interpretations of his music which are now being undertaken is exciting; for any composer's work to begin to be seen and heard in a different way is wonderful.'
'Secondly: we want to find outstanding talent, talent hopefully that we haven't heard before and that we wouldn't have found without this competition. I think there's great talent all over the world, there's more talent than anyone knows what to do with,' says Bob, and so the thing he's excited about seeing is 'that extra special thing that the talent has that puts them over the top, that makes you say 'that person is really doing something different and unique, and I can hear it in their sound.'
'We and the judges are all looking for that and hoping to find those talents who are taking what Piazzolla did and bringing it to a new level.
'Thirdly: to do something good and give something back.' During the pandemic Bob and his company have donated a lot of their services, including pro bono seminars for students and musicians in need, and organised a number of fundraisers during this past year. 'I think especially when the pandemic hit we felt it was incumbent upon us, being an organisation which has received support and supports other organisations in the market, to really focus on giving something back,' explains Bob. PARMA Recordings will produce and distribute albums with the winners of both the Solo and Ensemble categories of the competition and facilitate a multi-concert tour to China for the winners.
Away from the prizes, however, at the heart of the whole competition, there rests a desire to continue the legacy that Piazzolla left. As Bob tells me: 'I know from speaking with [the judges] that they're all really thinking about Piazzolla in this whole thing, thinking about the man. A number of these folks had deep personal interactions and collaborations with him, so they see it in a very visceral sense as truly continuing his legacy. To me, I'm honoured and excited to be a part of this.'
The competition is entered via video submission, and entries close on 18 April 2021. The finalists are announced on 18 May and the winner's announcement is on 15 June. Find out more details here.
For more of the best in classical music, sign up to our E-Newsletter