The Argentine tango scene in the early 20th century was not quite the scene we know from the later tangos of Piazzolla. In this 1912/1916 tango by Argentine composer Eduardo Arolas (1892-1924), we have a more normalized work. Arolas made his name as a bandoneonist, conductor and composer and his reputation as a performer was such that his nickname was 'El tigre del bandoneón' (The Tiger of the Bandoneon). He is considered one of the great tango composers of his time and his early death at age 32 in Paris is to be regretted.
History has it that this tango might have been first written in Bragado around 1912 but other scholars say it was written in Buenos Aires at the Café La Morocha around 1916. At the café, Arolas had a large following as a bandoneon performer with an audience largely composed of the local brickmakers.
The tango was a favourite and, in some recordings, has been given lyrics; one set conveys the immediacy of the work and the dance:
| | |
| --- | --- |
| Usted sabra | You will know |
| Que cuando el amor | That when love |
| Comienza a taconear | Starts to tap |
| Sentimos en el pecho | We feel in our chest |
| La dulce tentación. | The sweet temptation. |
This 1949 recording was conducted by Georges Tzipine leading an anonymous orchestra. Georges Tzipine (1907-1987) was a French violinist, conductor, and composer. He was a long-time friend of composer Arthur Honegger and conducted the premieres of many of his works.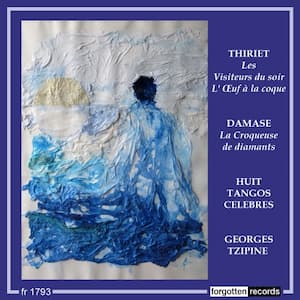 Performed by

Georges Tzipine
Orchestre Symphonique

Recorded in 1949

Official Website
For more of the best in classical music, sign up to our E-Newsletter