I don't understand why a good many people think that classical music is deadly dull and boring. Many of the stories and anecdotes surrounding these exceptional expressions of human creativity could easily become box office hits at your local cinema. Take for example the tale of a rich and spoiled child from the Republic of Venice. He was supposed to become a priest or monk, but he runs away from home and passes his student years partying and improving his fencing skills. At the tender age of 18, against the expressed wishes of his father, he marries a girl of low standings who is also a protégée of a powerful Cardinal. The Cardinal is none too happy, and charges our young hero with abduction. So he flees into a monastery and discovers his talent for playing the violin. Like a possessed he practices day and night and in the end sells his soul to the devil for everlasting fame. How good a story is that? The young hero in this story, as you might have already guessed, is Giuseppe Tartini and the blushing bride is Elisabetta Premazore.
Giuseppe Tartini: Violin Concerto in A Minor, D. 115 (Enrico Gatti, violin; Ensemble 415; Chiara Banchini, cond.)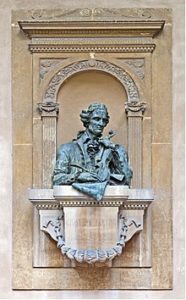 Growing up in the city of Piran—presently located in Slovenia—young Tartini was destined to enter the clerical profession. To that effect, his father sent him to Padua to study law. He was placed under the tutelage of the local friars, and he participated in small church services at the Cathedral. Always dressed as a priest, he supposedly greatly improved his fencing skills, and his roaming eye fell on Elisabetta Premazore, two years his elder. She came from a poor neighborhood, never knew her father, and was living in abject poverty with her mother and her three brothers. Tartini's father was outraged, and the enormity of his son's momentous decision possibly caused his premature death in 1710. At that point, Tartini openly rebelled against his parents' intentions, and on 29 July 1710 he married Elisabetta. The wedding was not a clandestine affair, but regularly celebrated and registered at the Chiesa del Carmine. It did take place rather hastily, however, as the groom was a cleric who had already received minor orders and he was only aged 18, with the bride having reached the mature age of 20.
Giuseppe Tartini: Violin Sonata in E minor (Giovanni Guglielmo, violin)

It was customary for the Cardinal of Padua to give money to disadvantages single girls who wanted to marry. Cardinal Giorgio Cornaro was a powerful man and he must have been slightly dismayed to receive such a request from his "protégée" Elisabetta. We are only left to guess what that actually meant, but presumably they had some kind of relationship. In the event, the Cardinal reacted violently and brought a charge of abduction against the groom. So Tartini found himself in a heap of trouble. He had turned his back on his clerical destiny by marrying a woman who had a relationship with the local Cardinal. Tartini was formally charged before the magistrate, and the local police was actively searching to arrest him. Tartini managed to escape the city disguised as a pilgrim, and leaving his newlywed bride behind, took refuge in the monastery of the Franciscan monks in Assisi.
Giuseppe Tartini: Violin Concerto in G Major (Eduard Melkus, violin; Vienna Capella Academic, August Wenzinger, cond.)

We do know that Tartini remained in the Franciscan convent for at least three years, and that he probably did not see his wife during that time. And with a lot of spare time on his hands, he devoted himself tirelessly to the study of the violin. Little is known about Elisabetta, but we do know that the marriage remained childless and that she remained in the marriage until her death in 1769. It has also been suggested that she had a fiery temperament and was deeply unhappy about her husband's numerous and lengthy travels and absences. In the event, the Padua authorities eventually pardoned Tartini, and we hear nothing further from Elisabetta. Undoubtedly Elisabetta found her way into Tartini's compositions, as they "reveal a personality of great warmth, tenderness, extreme sensibility, and a fastidiousness and personal modesty that verge on the excessive." I've always wondered if the famous story of the Devil might not actually have its roots in Tartini's relationship with his wife?
Giuseppe Tartini: Violin Sonata in G minor, Op. 1 No. 10 "Didone abbandonata" (Črtomir Šiškovič, violin; Luca Ferrini, harpsichord/organ)