Wolfgang Amadeus Mozart: Missa Brevis, K. 192 "Credo"

Leopold Mozart and his wife Anna Maria Walburga had seven children, of whom only two survived infancy. Being good Catholics and all, they continued to sponsor Holy Masses for their dead children. They believed that paying a priest to celebrate a Mass for a departed loved one, would diminish the punishment for their own sins at the hour of last judgment. According to the scriptures, "when we offer a Holy Mass to the Almighty God in honor of a particular Saint or Angel, thanking God for having mercy on us all, we afford that Saint or Angel a new degree of honor, joy and happiness, and draw his special love and protection on ourselves." In translation this means that for a bit of money you can shorten your days in Purgatory, protect yourself from many dangers and misfortunes, which might otherwise befall you, and be forgiven for all sins, which you have never confessed. And thus, Leopold, Anna Maria, Wolfgang and Nannerl Mozart made frequent pilgrimages to the church of Maria Plain, located to the northeast of the city of Salzburg.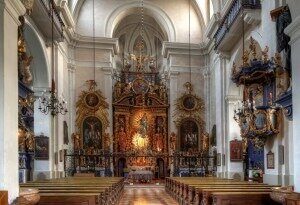 The history of Maria Plain dates back to the Thirty Year's War. A sacred painting of the Virgin Mary and the Baby Jesus by an anonymous painter miraculously survived a fire in the Bavarian town of Regen. The undamaged painting was brought to Plainberg near Salzburg in 1652, and Archbishop Guidobald Thun ordered the construction of a chapel. Pilgrims from all parts of Europe soon converged to pay homage to the miracle painting. In fact, the site became so popular with pilgrims that Archbishop Max Gandolf commissioned the construction of a large pilgrimage church in 1671. Architect Giovanni Antonio Dario took up the commission and the church was consecrated on 12 August 1674. Modeled after Salzburg Cathedral, the three-story and two-tower façade dominates the surrounding countryside. The interior of this single-aisle structure is richly decorated with gold, and the high altar painting of Mary's Assumption, guarded by the statues of saints Rupert and Virgil, is by Fracesco de Neve. The miracle painting, housed in an elaborate wrought-iron screen by the locksmith Johannes Thomas, is the centerpiece of the altar. On 14 July 1751, the painting was crowned and decorated with a radiant silver wreath. Since then, annual pilgrimages to Maria Plain are celebrated on that day, and the church has become a favorite location for weddings.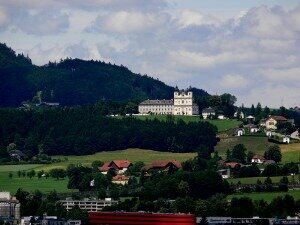 Wolfgang Amadeus Mozart certainly felt like giving thanks after he returned from an arduous journey to Italy in 1773. The trip had been exceedingly difficult and less than fruitful. Travel conditions had been primitive and both him and his father had undergone rather severe illnesses far away from home. And truth be told, Mozart was not looking forward to enter into employment with the Archbishop Hieronymus Colloredo in Salzburg. The only possible course of action, giving thanks for his safe return and to pray for better thing to come, was a pilgrimage with his family to Maria Plain! But more than that, Mozart specifically composed a mass of thanksgiving for this famous pilgrimage church. Completed on 24 June 1774, the Missa brevis in F major, K. 192, is scored for mixed choir and soloists, 2 trumpets—which Mozart added later—3 trombones, 2 violins, and basso continuo. Since you obviously know your Mozart, you won't have any trouble recognizing the "Credo" motif. Mozart was to famously reuse it later as the main theme to the finale of his "Jupiter Symphony."