The most famous 19th-century violinist that you've probably never heard of had a career that spanned all of Europe. He was widely travelled, his debut in Paris in 1782 was an unprecedented success, he was a favourite of Queen Marie Antoinette, and his debut in London 1793 won him praise for his tone, technique, and his bowing style. He was the founder of the influential modern French violin school. Meet Giovanni Battista Viotti (1755-1824).
Although Viotti's importance cannot be understated for his time, his violin music hasn't made the standard repertoire. When Viotti played at the influential Concert Spirituel in Paris, music writers acknowledged his talent: 'Viotti's arrival in Paris caused such a sensation that it is even difficult to describe it. People had never heard such perfect talent before.' Reviewers praised his sound, his imagination in his compositions, and thought his violin works were far above anything else written for the instrument.
So why is he relatively unknown today? Part of it was his peripatetic career and its political overtones. He left Italy, as did many instrumentalists, because the musical genre of his home country was opera and as a violinist, he couldn't be a star. In France, he captured his audience, but his association with the royal family and the aristocratic circles came to an end with the French Revolution. In 1792, he moved to England but had to leave the country in 1798 for Germany when he was suspected of being a Jacobite and advocating the restoration of the House of Stuart. In 1801, he returned to England where he took up wine trading. In 1818, he returned to France to lead the Théâtre Italien and later the Opéra, but criticism of his direction led him back to England only 3 years later. His fall in popularity took his music with it.
Viotti wrote some 29 violin concertos, written between 1781 and 1815, which cover a wide range of styles, as he sought to find something for every audience. His most famous today is his Violin Concerto No. 22 in A minor. Writing as a late-galante composer, he reached, but did not pass through, the doorway to Romanticism. Brahms, in particular, was an admirer of this concerto. This concerto, one of his last 9, was written for his London audience and Viotti considered Violin Concertos Nos. 21-29 to be a set. They use the larger orchestra common in London, their slow movements more emotional, and perhaps even a little less virtuosic as Viotti himself was coming to the end of his career.
Giovanni Battista Viotti: Violin Concerto No. 22 in A minor, G. 97: III. Finale
In this performance, recorded for radio broadcast from Carnegie Hall on 18 October 1953, violinist Yehudi Menuhin performs with the New York Philharmonic under the direction of Dimitri Mitropoulos.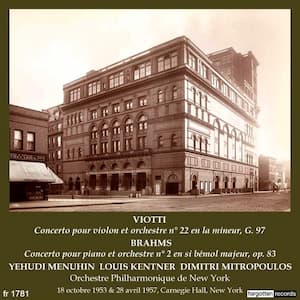 Performed by

Yehudi Menuhin
Dimitri Mitropoulos
Orchestre Philharmonique de New York

Recorded in 1953

Official Website
For more of the best in classical music, sign up to our E-Newsletter