The Cretan princess Ariadne appears across a number of the Greek myths. She first appears as the daughter of King Minos of Crete and his wife Pasiphaë, mother of the Minotaur. She helped Theseus escape the yearly sacrifice of 7 men and maidens by providing him with a sword and a ball of thread, so that he could retrace his way to the entrance.
Ariadne had fallen in love with Theseus at first sight and after he used her gifts to successfully kill the Minotaur and escape the labyrinth, she sailed with him away from Crete. However, it appears that she was already married to the god of winemaking, Dionysus, and he quickly came to claim her back. Theseus abandons her on the isle of Naxos and sails back to Athens. The goddess Athena may also have had a role in this, as some stories portray her as leading Theseus away from the sleeping Ariadne and back onto his ship.
As the wife of Dionysus, Ariadne bore him many children including both Oenopion, the personification of wine, and Staphylus, who was associated with grapes and sailed with Jason and the Argonauts. She was killed by Perseus when he turned her to stone using the Gorgon's head. After her death, Dionysus went to Hades and retrieved her to be deified on Mount Olympus.
This gives us two different Ariadnes: the impetuous daughter of Minos who falls in love at first sight with Theseus and the woman who choses to be the wife of the Greek god of fertility, and wine and who is also a symbol of insanity and hyperbole. In his guitar piece, Ariadne's Duality (2019), Greek composer Petros Klampanis (b. 1981) depicts the two sides of our heroine.
Klampanis writes for the guitar as both a polyphonic instrument and as a percussion instrument. In this piece, he combines elements of Greek folk music and jazz with classical music to create a work that represents both ancient and modern Greece.
Petros Klampanis: Ariadne's Duality (Dimitris Soukaras, guitar)


The work was commissioned by the Worshipful Company of Musicians in the UK to be part of their Ivor Mairants Guitar competition. In 2019, the Ivor Mairants competition was won by the performer on this recording, Dimitris Soukaras. Born in Crete, Sourakas (b. 1995) studied at the Royal Academy of Music and has performed both in Greece and internationally at festivals and concerts.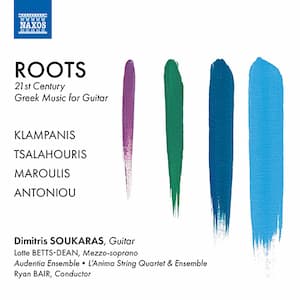 Petros Klampanis: Ariadne's Duality

Performed by
Dimitris Soukaras

Official Website
For more of the best in classical music, sign up to our E-Newsletter