How context can change everything – when we listen to Francisco Tárrega's 1905 work Gran vals, we hear an elegant guitar waltz…until we get to measure 13.
Francisco Tárrega: Gran vals (Mats Bergström, guitar)


Ah, the Nokia ringtone. The bane of concert halls everywhere. The Tárrega work was first used in a Nokia ad in 1992 and in 1994, with the release of the Nokia 2110, the little 4-measure phrase was the ringtone. First called Type 7, it was given back its name as Grand valse in 1997 with the Nokia 6110. In 1999, it was renamed again as Nokia tune and became the flagship ringtone. In 2009, it was estimated that the ringtone was heard 1.8 billion times per day at 20,000 times per second – that's market penetration!
In a concert hall, however, that sound also signals the unaware audience member and has been cause for conductors stopping the entire orchestra until THAT sound can be stopped, or at best, subjecting the erring audience member to the collective glare of everyone else in house (or at least those who aren't slapping their pockets in case it's THEIR phone going off!).
Now, turn it around – how can you make that simple ringtone (with all those cultural overtones) into a work of music? In his composition Ringtone, Greek composer George Kontogiorgos (b. 1945) gives us the development and a set of variations on a melody that make many of us despair. By seeing the humour in the music, however, Kontogiorgos gives us a work that perhaps does indicate the arrival of a new message. The change in pitches and intervals lets us see through the sound into the possibilities of how it could be changed into something different.
George Kontogiorgos: Ringtone (Stathis Mavrommatis, alto saxophone; Christina Panteli, piano)

Performed by Greek saxophonist Stathis Mavrommatis, president of the Greek Saxophone Association and principal saxophonist of the Athens Wind Orchestra, and pianist Christina Panteli.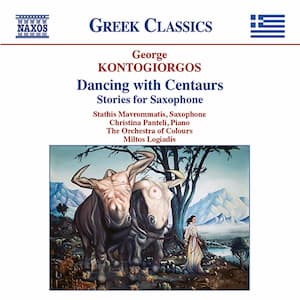 George Kontogiorgos: Ringtone

Performed by
Stathis Mavrommatis
Christina Panteli

Official Website
For more of the best in classical music, sign up to our E-Newsletter