It's summer! Where I live, it's been humid and heavy with some days at '93° but feels like 124°' (33C, feels like 51C), according to my overly helpful weather app, so definitely summer.
So, let's see where water has inspired composers. Swan Lake, of course, but it never seems to be a summer lake – perhaps the swans flying overhead at the end of the first act and the whole idea of hunting gives this more of an autumnal flavour. However, there is a scene where the swans swim on the lake, giving us one of the memorable melodies of the ballet. There are dark forebodings in the music, but above it all, the swans swim.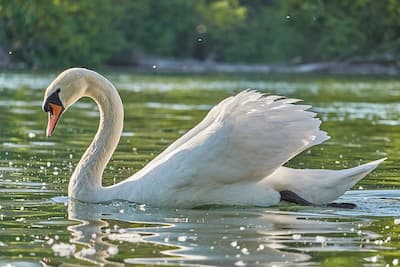 Pyotr Il'yich Tchaikovsky: Swan Lake (Highlights) – By a Lake: Scene: The swans swim on the lake (Slovak Philharmonic Orchestra; Michael Halász, cond.)

In the groundbreaking musical Show Boat, the wholesale integration of song and play into a seamless whole permitted the musical to progress beyond "we gotta put on a show" to a genre, that even in 1927, could take on racial prejudice and miscegenation, as well as false identities and loves lost and found.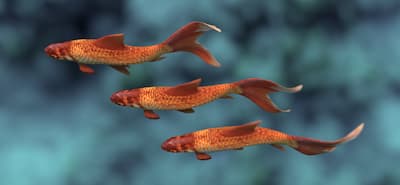 Jerome Kern: Show Boat – Act II Scene 4: Fish gotta swim, birds gotta fly (Frederica von Stade, Magnolia; Wayne Marshall, piano; London Sinfonietta; John McGlinn, cond.)

A song on unrequited love within the larger context of a human life starts with the unforgettable imagery of a falcon…not winging through the air, but swimming through water. That's just as difficult as the lover's success with a woman who doesn't love him but another.
Vítězslav Novák: Slovenské spevy (Slovak Songs), Book 3 – No. 29. Ťažko tomu sokolovi pod vodou plávati (It's hard for the falcon to swim under water) (Eva Garajová, mezzo-soprano; Miroslav Sekera, piano)
In Act IV of Khovanshchina, Prince Ivan is relaxing among the women of his retinue and they sing a calming song about a snow-white swan, gliding, swimming… until the Boyar Shaklovity enters, kills Prince Ivan, and then, worse, sings a parody of the women's song.
Modest Mussorgsky: Khovanshchina – Act IV Scene 4: Swim on, glide, thou snow-white swan, ladu, ladu, ladu … (Dushan Popovich, Shalovity; Belgrade National Opera Chorus; Belgrade National Opera Orchestra; Krešimir Baranovic, cond.)

As part of his 2005 Violin Futura project, violinist and composer Piotr Szewczyk commissioned 33 composers to create new 21st-century miniatures for the solo violin. Aaron Einbond responded with Fish Gotta Swim, which doesn't appear to have anything to do with the famous lyric from Show Boat.
Aaron Einbond: Fish Gotta Swim (Piotr Szewczyk, violin)

As part of a project to explore modern miniature concertos for piano duo, pianist Kate Halsall commissioned works from a number of contemporary composers. Andrew Poppy responded with Swimming with the Stone Book, which starts with the binary action of swimming (left-right) as a pulse and then pairs it with the different binary pulse of turning the pages of a book. He then adds in the visual pulse of the pair of eyes tracking across the page paired with the blinking eyelids – yet another pulse.
Swimming is fine, but swimming with an impossible weight is less easy. The composer makes reference to the artist Anselm Kiefer's stone books as being similarly impossible to swim with.
Andrew Poppy: Swimming with the Stone Book (Kate Halsall, Fumiko Miyachi, pianos; Lucy Shaw, double bass; Joel Bell, electric guitar; Ruth Goller, electric bass; Andrew Poppy, keyboards; Robert Millett, Jeremy Barnett, percussion)
Sometimes, in our dreams, we create happy, impossible worlds. In his song Swimming Over London, British composer Bob Chilcott takes lyrics by Charles Bennet and creates one of these worlds: as the woman swims over London, she sees nature: a fox, blackbirds, a pear tree… while, at the same time the taxi-cabs are sleeping and silent. She swims until all signs of civilization are gone and she is called to the ocean, where she can sing to the stars and 'darkness is a murmur in her hair.'
Bob Chilcott: Swimming Over London (Tenebrae Consort)
American composer Judith Lang Zaimont takes us out of the world and further into the galaxy as she starts her exploration of Jupiter's Moons with a prelude 'of undefined tonality and no beat' giving us the overview of The Moons Swim in Orbit, touring Jupiter's moons of Europa, Leda, Io, Ganymede and Callisto.
Zaimont: Jupiter's Moons – I. The Moons Swim in Orbit (Joanne Polk, piano)
Delving deeper into Hand Christian Andersen's story of The Princess and the Frog. In Andersen's story (as a contrast to the tale by the Brothers Grimm, where she has to kiss it), a flea, a grasshopper and a frog compete to see who can jump higher, with the winner to marry the princess. The flea jumped so high that no one could see him, so he was disqualified. The grasshopper jumped less high, but into the king's face, so he was found to be ill-mannered. The frog, however, made the political leap into the princess' lap. The king judged that since, in his opinion, there was nothing above his daughter, the frog showed understanding, bravery, and his intellectual side so won the princess. Geoffrey Allen then takes the pair swimming in a beautiful work for flute and piano.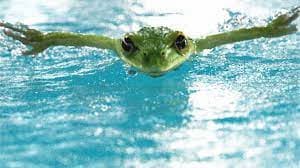 Geoffrey Allen: Watercolours, Op. 12 – III. The Princess and Her Frog Go Swimming (Neil Fisenden, flute; David Wickham, piano)

Bending traditional Japanese forms to modern pieces, Japanese composer Yoshinao Kobayashi (b. 1961) depicts the movements of a fish couple. They start with jyo, a quiet and slow introduction, before progressing to ha, where the quietness is disturbed and the tempo increases, and Kyu, which is fast and full of energy. The titles of the movements reflect this: I. Calmly swimming; II. Abruptly jumping; and III. Vigorously dancing.
Yoshinao Kobayashi: Aquafishes – I. Calmly swimming (Takaaki Shibata, mandolin; Christian Laier, mandola)
Raymond Charles Hanson decided to make his Op. 43 piano suite about a child's day from morning to evening. From Morning Sun, the child is Off to School, suffers in the Midday Heat, and finds relief with an Afternoon Swim. Feeling Sleepy is followed by Song of the Night to round off the day.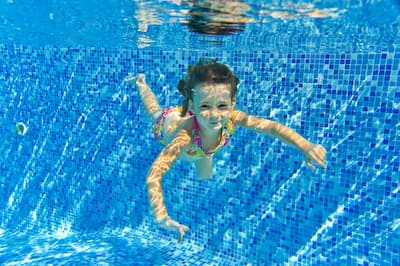 Raymond Charles Hanson: My Day, Op. 43 – No. 4. Afternoon Swim (Tonya Lemoh, piano)

In this work, pianist Richard Luke takes us Swimming in a Lake. Unlike many of the other swimming pieces we've heard, this one seems to place us in the swimmer's head, repeating gestures for the swimming strokes and the rest of the business that runs in our minds as we try to concentrate on an activity.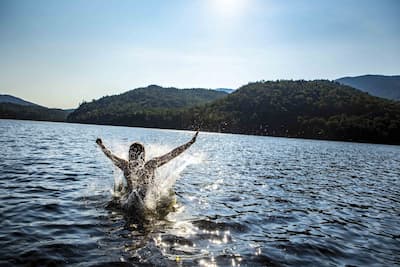 Richard Luke: Swimming in a Lake (Amira Bedrush-McDonald, violin; Richard Luke, piano)

We'll close out our swim trek with one more plunge. American composer Paul Johnston used the harmonies from Chopin's Opus 28 Preludes, using Prelude no. 4 in E minor as the source for Morning Swim.
Paul Johnston: Summer Sketches – II. Morning Swim (Duo XXI; Paul Johnston, piano)

We've had swans, fish, frogs, a planet's moons, and people in the water all swimming through their elements – how do you enjoy a swim? In the bath? In a pool? In a lake? In the sea? Time to cool off!
For more of the best in classical music, sign up to our E-Newsletter