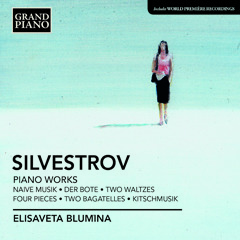 Naive Music
no. 7 Waltz
Elisaveta Blumina
From Silvestrov Piano Works (2013)
Released by Grand Piano
Silvestrov: Naive Music – no. 7 Waltz

About Valentin Silvestrov (b. 1937)

This recording is devoted to piano works, by the Ukrainian composer Valentin Silvestrov, from various creative periods of his life. The piano is the composer's most important source of creative activity and it embraces a wide range of genres; there are sonatas and cycles for solo piano as well as large-scale compositions for piano and orchestra.

In recent years, which the composer calls his 'Bagatelle' period, Silvestrov has concentrated his activities on miniatures, for various combinations and, above all, for the piano. According to his own words he is interested first and foremost in melody; not in melody as something complete in itself but rather as an answer to momentary burgeoning motifs, exclamations or phrases. Hence his preference for many commonly used 'miniature' titles such as "Moment(s)…").