When the Titanic struck an iceberg on the night of 14 April 1912, sinking at 2:20 AM the following day, eight unlikely heroes emerged: the members of the ship's band. They played for passengers, keeping them calm and preventing panic. (In fact, some argue they kept passengers too calm.) What were the musical backgrounds of the Titanic's band, and what were their jobs like?
What the Job Was Like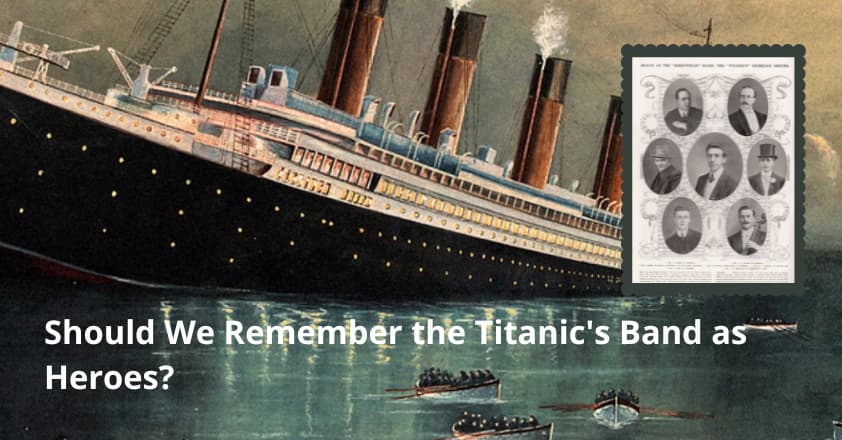 The Titanic's band was unique in that it was not employed by the White Star Line. Instead, a Liverpool-based firm called C.W. & F.N. Black hired bands and assigned them to various British liners, including the Titanic.
It also might be more accurate to talk about the Titanic bands, because the eight musicians on board were split into two ensembles. One was a quintet that played at teatime and special occasions like Sunday services, while another trio played in the Cafe Parisien and exclusive À La Carte Restaurant.
There was one pianist among their ranks, one bassist, three cellists, and three violinists. When not on-duty, the musicians traveled as second-class passengers. They ranged in age from twenty to forty. Their leader was a violinist named Wallace Hartley.
Bandleader Wallace Hartley
Wallace Hartley was born in 1878 in northwest England to a Methodist choirmaster and his wife. Hartley did not study at any prestigious music schools, but he did play in various regional or municipal orchestras as a young man, learning on the job. In 1909 he brought his talents to sea, performing on great ships like the Mauretania and Lusitania (which would also meet a tragic end three years after the Titanic, thanks to a German U-boat).
His performing career secure, he proposed to his girlfriend, Maria Robinson. When the Titanic set sail, he was apparently reluctant to leave her, but he couldn't resist the potential professional opportunities that might come from playing the great ship's maiden voyage.
After the Titanic hit the iceberg, he gathered his fellow musicians, and they began to play to help keep passengers calm. One of his friends later claimed that Hartley had told him if he was ever on a sinking ship, he would probably perform the hymn Nearer my God to Thee. Based on passenger testimonials, it is believed this is indeed the last piece that the band played before the ship sank from under them.
André Rieu – Nearer, My God, to Thee (live in Amsterdam)
Hartley's body was recovered two weeks after the sinking, with his violin case. The violin disappeared for many years but resurfaced in 2013 when it was found in an attic. It was identified as Hartley's from an engraving on the instrument's silver tailpiece that read "For Wallace on the occasion of our engagement from Maria." Further research also discovered a draft of a message that his fiancee had sent in 1912, thanking all those who "made possible the return of my late fiancé's violin."
The violin sold for $1.7 million in 2013 and is now on display in a Titanic museum in Tennessee. Unfortunately, it is damaged and unplayable.
Other Band Members
The other members of the band also had tragically fascinating stories:
– Pianist William Brailey and cellist Roger Bricoux once worked on the Carpathia…the ship that would come to save the surviving Titanic passengers!
– A scandal erupted two weeks after the sinking when C.W. & F.N. Black sent violinist John Law Hume's father a bill for his violinist son's uniform.
– The Hume family also became embroiled in a court case over payments meant for victims' families when Hume's fiancee revealed that she was pregnant with Hume's baby. They'd been scheduled to be wed the day that his body was recovered.
– Violinist Georges Krins was born in Paris in 1889 and studied at the Conservatoire Royal de Musique in Liège, Belgium, for six years, starting when he was just thirteen.
Were the Musicians Heroes?
There are no indications that the Titanic's band members ever attempted to save themselves, and all of them died in the sinking. Most people regard them as musical heroes, who helped to bring comfort and beauty to passengers' final moments and avoid panic. However, there is a school of thought pointing out that carefree music wafting across the deck may have given the wrong impression as to the severity of the situation, discouraging people from getting into lifeboats until it was too late. We'll never know the exact impact that the band and its playing had on the events of the sinking.
​​I Salonisti Anniversary Interview
If you're interested in hearing what the bands might have played and what passengers might have heard, take a listen to a recording called "And the Band Played On" by the ensemble I Salonisti, who played the musicians in the Titanic's band in the 1997 James Cameron movie Titanic.
For more of the best in classical music, sign up to our E-Newsletter