It is no less complicated for the string sections of orchestras. One shares a stand with another player. The designated player on the stand often has to turn a page fast. Half the section has to drop out for a few seconds to whip the page over and not drop their instrument (or worse plunge the entire score onto the floor or into the audience.) Page turns make us break out into a cold sweat — as if the anxiety of the performance itself isn't enough.
Today these are archaic problems. Sheet music apps allow musicians to read the music on their computer and to play with recorded scores. Some apps will even show you appropriate fingerings and others allow you to write music.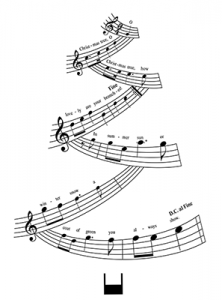 Anna and Magnus Orr, in Edinburgh, UK, created ComposerBase. Magnus, who has been a keen bagpiper for over 25 years, is the technical developer for ComposerBase. In addition to digital development of music apps, the company organizes large-scale pipe band events, which have included
Pipefest 2010
in Edinburgh, the
Tartan Day Parade
in New York and the
Diamond Jubilee Parade
in Perth. While at one of these events Magnus came up with the idea of putting pipe music on a tablet, creating the first sheet music app for bagpipes!
It became apparent that the app could be developed for other instruments. ComposerBase's idea was not only to help promote classical music but also to help showcase works of contemporary composers on the ComposerBase app and website. Composers can easily upload their scores. They have also produced unique apps for organ music and classical guitar. A major advantage for the non-dinosaur is that the apps can be continually adapted, improved and developed. ComposerBase has translated their apps into seven different languages.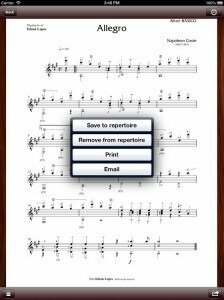 Although printed sheet music is still used especially by classical music players, sheet music apps have proved increasingly popular as a resource. With an iPad app hundreds of parts are available at your fingertips — the musical equivalent of the Kindle. The app includes a zoom feature and a 'page slider' to jump to any page. Music can be printed and emailed from the app and practice sessions can be recorded, saved and shared while using the built in iPad microphone.
I doubt that we dinosaurs could have imagined practicing with the help of a computer. SmartMusic is an award-winning interactive music software which allows students and educators unlimited access to a collection of music for all ages and skill levels. Teachers can choose and send customized assignments from a library of band and orchestra titles, including solo contest works and method books. The software allows the teacher to grade assignments and track the progress of a student. Several different practice tools are built into the software. Students can slow the tempo down, repeat difficult sections, click on a chart for a correct fingering, use the tuner and metronome feature, and play along with their own part, or with the accompaniment. And this is the amazing part for dinosaurs — wrong notes or rhythms and other errors such as early or late entrances will turn red on the screen, while correctly played segments will be in green. Students can record their performance to evaluate how they sound and hear how their part fits into the band or orchestra as a whole.The website offers online teaching, books, products, software, accessories and educational DVD's.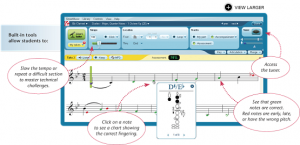 Founded in 2010, Weezic augmented sheet music from Paris, France, also helps students practice making it easier, stimulating, and fun. Weezic sheet music turns pages automatically. The student can play along with a customized virtual orchestra, add or remove any instrument from the accompaniment, transpose the accompaniment to the tonality of their choice, adjust the tempo to practice slowly
and create loops to repeat the difficult segments in the music. As with SmartMusic, notes turn red to indicate errors so that the student can easily discern where more work is necessary. The only thing it doesn't do is yell at you for playing out of tune — which in the dinosaur age our parents did! Weezic has an extensive library for beginners as well as for more advanced players and they offer a free iPad app.

One of the better-known music notation software for composers is Finale. Finale offers freedom and flexibility to create, edit, print, arrange, share and publish a wide variety of musical scores. Finale will play back the music once it is written and it has additional creative features such as the ability to automatically harmonize a melody.

Another popular music notation software is Sibelius 7, which is used by top composers, arrangers, and publishers and yet is simple enough for beginners and students. A new Sibelius 7 feature provides tabs or icons, which lead the user through the process of creating a score from start to finish. Sibelius 7 allows the composer to import graphics to create teaching materials or instructional books. Sibelius offers educational discounts on their software.

I'm just an ordinary dinosaur but to me these are overwhelming technological advances. I wonder what Beethoven and Mahler would have thought.

http://www.composerbase.com/about/

I admit I'm a dinosaur. I come from the time when we did a lot of cut and pasting —and I don't mean highlighting and punching command X and C. We used real paper, with scissors and tape to organize the pages in our sheet music so as to turn the pages when no rests were in sight. Much of my solo and chamber music has photocopied pages to make page turns feasible without missing a beat! I remember in the case of the Bohuslav Martinu duo for Violin and Cello, there was not one bar of rest. The violinist and I had to drastically reduce the size of each page of music into several miniature pages, which we then stuck onto one enormous cardboard sheet to place on our stand so that we could read the music without having to scramble to turn pages.