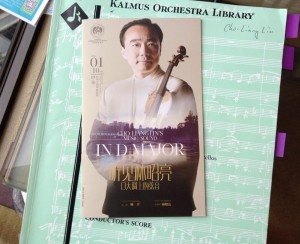 Classical music has a bad rap. Despite current research that indicates music education enhances all learning, reverses the effects of poverty and dementia, and encourages empathy, publicity departments seem to think they must exert themselves to market classical music. Their attempts have resulted in tremendous bloopers.

If a marketing employee is simply inexperienced, or unfamiliar with the jargon, inadvertent and funny errors can occur. Recently, a poster was used to advertise violinist Cho-Liang Lin's appearance with the Hangzhou Philharmonic. Plastered across Lin's photo were the words "MUSIC SOUND IN D Major" which dwarfed him. Lin wondered if the program book designer "wants to make sure I know what key I am supposed to play."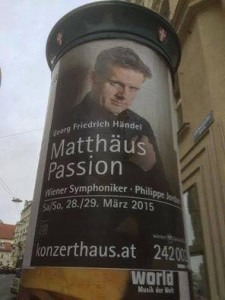 Did the marketing department intend to hold the audience in suspense as to what "Sound" in D major, i.e. which concerto he would be performing —Tchaikovsky? Beethoven? Brahms? Prokofiev? Paganini? Or the Bach Concerto for Three Violins in D major with two mystery violinists? Or was he to play all the violin concertos in D major?

Violinist Sung-Duk Ed Song a one-time student of Lin relates that a publicity person on his staff created an ad with the line "Mendelssohn's violin concerto in K minor." If that wasn't bad enough, when Song invited his friend, pianist Jean-Yves Thibaudet, to perform the Ravel Piano Concerto for the Left Hand the same person thought Jean-Yves only had one hand so the media blurb said, "come hear a pianist play with only one hand." The marketing department was inundated with calls from audience members who asked what had happened to Thibaudet.

Ravel Concerto for the Left Hand
Massive bloopers even happen with venerable orchestras. The Vienna Philharmonic recently pasted a huge poster on an exterior display tower with quite an error.
Who
composed the St. Matthew Passion again?? (It's one of
J. S. Bach's
most famous works.)
Even conductors are featured in embarrassing ways. Take for example the year the Minnesota Orchestra was welcoming a new conductor. Hoping to portray the new maestro as "with it" and uninhibited, the marketing department bent over backwards to appeal to the community. The result was the conductor making the first pitch at a Minnesota Twins baseball game and his photo on a Wheaties cereal box.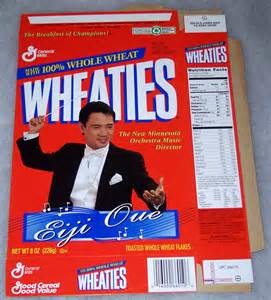 Recently the Rochester Philharmonic proved that they are not perched on an ivory tower. The company
Eye Openers Optical Fashions
, requested that the RPO participate in a different type of ad campaign—a T.V. commercial promoting glasses. The Music Director, Ward Stare, the Pops Conductor, Jeff Tyzik and several orchestra musicians appeared in the ad in which the owner of
Eye Openers
crept onto the stage towards the podium and made his way into the percussion section. There he anxiously waited for his moment of glory.
But we draw the line when classical music is ridiculed. Not too long ago the car company Lexus produced a T.V. commercial. Owning a new Lexus NX is classy and cool. But their "pursuit of perfection" made fun of classical music. During the commercial the young handsome driver ambles in a bucolic setting. Despite the gorgeous lush country roads he looks quite bored. Mozart's famous melody from the andante movement of the Piano Concerto No. #21 "
Elvira Madigan
" is heard. (So named after the 1967 Swedish film in which the theme became popularized.)
Suddenly the driver slams on his brakes, pulls over and gestures to the back. You!— out! The trio of string musicians who happen to be playing in the back seat, are ejected from the car. The young man takes off. He guns the engine and cranks up the volume on a rock music selection. The poor string players are seen running helplessly after the car in full black dress attire while still trying to play their instruments. Lexus derides Mozart, of all composers, who is identified with perfection and refinement, whose music is certainly timeless. Needless to say this ad seems to reinforce the negative stereotype of classical music and musicians.
The new Lexus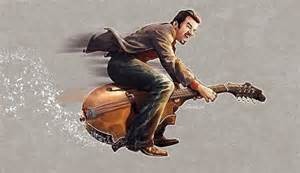 Making fun of classical music is not new. There is a famous Carol Burnett skit from the 1970's called
The Recital
. The performers, Carol Burnett and her cronies, mimic and exaggerate their "performance" of a piece of contemporary chamber music. Of course they cannot play really… It is hilariously cacophonous. Although the audience wants to plug their ears we are too helpless with laughter at the performing antics. They emote all over their instruments quite oblivious to the audience.
Carol Burnett Show- The Recital
No one is complaining about Burnett, or Igudesman and Joo, Victor Borge and others. We love to laugh at ourselves just like everyone else. And don't get us started on viola jokes. Then why does classical music have such a bad rap? Classical music appears in countless movies and television programs whether we realize it or not.

When disaster strikes, the world seeks consolation from classical music. We turn to classical music to commemorate a tragedy, to grieve, or to contemplate important life events. Usually the pieces for such occasions include Barber's Adagio For Strings, Beethoven's Ode to Joy, Ravel's Pavane for a Dead Princess and Nimrod from Elgar's Enigma Variations. We seek classical music for meaning, soul-searching and for meditation. Everyone should have a chance to taste all of the varieties of great music available today without pre-conceived notions. Maybe these marketing ploys are part of the problem.

Igudesman and Joo "and now Mozart"
Ravel Pavane