Niu Niu had his Wigmore Hall debut in 2006, when he was just nine years old. Introduced to the London public by pianist Leslie Howard and sponsored by David Tang of Shanghai Tang fame, Niu Niu received a taste of limelight and glamour in one of the foremost concert halls in the world.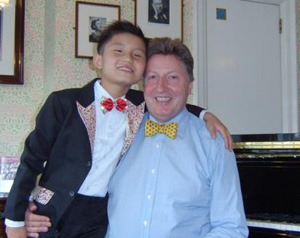 In July, Niu Niu had an all-Chopin concert staged at the Shenzhen Concert Hall, the Shenzhen Daily interviewed his entire family as they promoted the concert. Here is one of the highlights I picked up from the ensuing article: "Niu Niu's parents say they have been protecting him from the pressure of fame." And then there is a quote from Niu Niu himself, where he admits, "There was a period, around the age of seven or eight, when playing the piano felt like a burden to me. It was then that my parents told me to clear my mind and make a choice: either completely give it up or continue, and put in even more effort."

A few years ago, before Niu Niu's Wigmore stint, I was visiting my mother in Shanghai. She had been invited by the Shanghai Conservatory to introduce their best students to the press at a special concert. Curious to see and hear the new generation, I accompanied her. It was an afternoon event, and about a dozen children performed for an audience comprising mostly teachers, students and parents, as well as the local press, who were eagerly seeking out the next Lang Lang.
I must admit that Niu Niu stood out from the other performers. First of all, he has a very special name. Niu Niu is in fact his nickname; his real name is Zhang Shengliang. I thought it strange to introduce a student by his nickname, which would normally only be used within the family and among close friends. If I were introduced in public by my nickname, I would be extremely embarrassed and insulted, especially if I were a little child. Of course, on further reflection, Niu Niu is a catchy name that is easy to market and remember. And it fits well with the Yo Yos and Lang Langs of the industry.
Niu Niu was also definitely the best of the pianists who performed that afternoon. His technique was remarkable and impressive. And during the Q & A session with the press, he showed a maturity and composure that was absolutely outstanding for his age. This little boy is either extremely well trained, or he is a monster in the making. The parents were there too, of course. From the way they guided the interview and presentation, it was easily apparent that these were extremely ambitious and determined parents.
Even though I have not heard Niu Niu play recently, nor was I able to locate the CD mentioned in the Shenzhen Daily, I have no doubt about his talent and hard-working attitude. What I want to say is this: here we have a child prodigy who was deprived of a normal childhood and exposed to the limelight at a very tender age. When other children were having fun at the playground, he was practising on his piano for several hours each day. During the holidays, he was touring, promoting and giving concerts.
So when does he get to live a real little boy's life? The life of an artist is extremely isolated and lonely; how does such a young boy deal with it? And why ask a seven-year-old to choose between giving up the piano (which he probably enjoyed, even though he hated the hard work, which I can understand) or keeping it up and stepping up the intensity? What kind of education was that? While I understand the concept of "no pain, no gain", when you push a boy so young in such a manner, for me, it is child abuse.
How will he delight the audience if he cannot interpret the music? And to interpret music, one must have real-life experiences: education, culture, emotions, relationships, experiences both good and bad – has he had any of these?
Can he be the next Mozart, who, like him, had ambitious parents and was paraded about from a very young age? For this, you need not only talent, but sheer genius. Or will he be forgotten once he reaches adulthood, when he loses the novelty and cuteness of being a child prodigy? There are many good musicians nowadays who exhibit technical prowess. To compete with them, one needs a bit more than technique; flashy performances can impress for a short time, but to last as an artist, one needs to touch the hearts of the audience.
I sincerely hope Niu Niu will become an internationally successful artist with profound musicality, who not only delights the audience, but also moves and inspires them. He should be careful not to let his success go to his head. He needs to stay humble and simple. After all, we already have one Lang Lang; we definitely don't need a second one.
Related articles:
mvdaily.com – A Chinese Wunderkind
Shenzhen Daily – Niu Niu: Piano much more exciting than Xbox
Photo credit: mvdaily.com