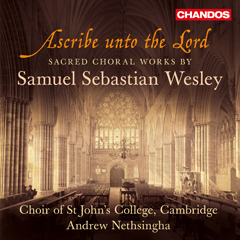 O give thanks unto the Lord
From Sacred Choral Works by Samuel Sebastian Wesley (2013)
Released by Chandos
Samuel Sebastian Wesley: O give thanks unto the Lord

SAMUEL SEBASTIAN WESLEY
(1810 – 1876)

Son of the composer and organist Samuel Wesley, grandson of the hymn-writer Charles Wesley and great nephew of John Wesley, the founders of Methodism, Samuel Sebastian Wesley was a chorister at the Chapel Royal before embarking on a career as an organist, employed successively at the cathedrals of Hereford and Exeter, then at Leeds Parish Church, Winchester Cathedral and finally Gloucester Cathedral. He was the first professor of organ at the Royal Academy of Music in London.

Wesley did much to reform Anglican cathedral music and his compositions include anthems and service settings. His secular vocal music includes glees and part-songs, with some solo songs.