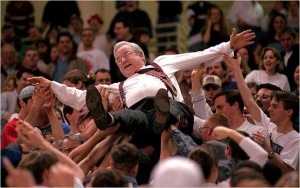 There's a storm brewing in classical music. The quandary:
#1 how far are we willing to go to achieve reaching out? Can we pursue change without freaking out our musicians and loyal concert attendees?
#2 how do we remedy the erroneous expectations and misconceptions regarding attending a performance in a concert hall or opera house?
#3 how do we entice more people to classical music concerts when knowledge about, and interest in classical music might be dwindling due to cut backs in music education?

There are two camps— those who feel that we have to reach out at all costs to younger audiences and those who steadfastly want to keep the traditions unchanged.

There certainly have been some strange goings-on in the classical world of late in both camps! The Seattle Symphony was taken by surprise when a YouTube went viral on Twitter. They, like many symphony orchestras, have been dancing on a trapeze— attempting to keep patrons happy while trying to attract new audiences. Several women were asked to come onstage to dance during a song of Sir Mix-A-Lot with the Seattle Symphony. The short video features a 38-year-old audience member now known as "the lady in the black dress." Needless to say, it was Ms. Shawn Bound's first time at the hall leading to millions of views and considerable controversy. A gimmick? A spectacle? Would you see it as fun or shocking? I wonder what the musicians thought.

The San Francisco Symphony, Cincinnati Symphony, Indianapolis Symphony, Pacific Symphony and the Dayton Opera have something in common— Tweet seats. Tweeting from a designated section of the concert hall during the performance is a strategy to lure young people to concerts in the hope that it will seem more interactive. (See link below for a conversation about this.) One camp certainly finds this a dastardly distraction.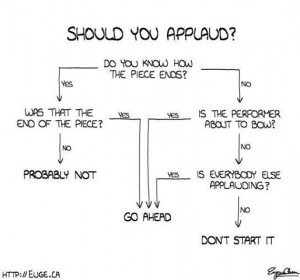 Recently, artistic director of the Bristol Old Vic, Tom Morris, invited the audience to bring their drinks to the front of the stage during an 'accessible and informal' performance of Handel's Messiah saying, "Clap or whoop when you like, and no shushing other people." American chemist and Royal Society research fellow in London, Dr. David Glowacki, attended the concert but he took the go ahead a step too far by attempting to crowd-surf. I must admit I had to look up the term— crowd surfing, is the process in which a person is passed above everyone's heads during a concert, with other members of the audience supporting the person's weight.

Attendees were so irritated, that they physically ejected the academic from the performance. Morris claims it is the first such incident at a classical concert since the 18th century. What to do? He is reluctant to re-instate the oftentimes strict rules of concert etiquette, which he hoped to ditch.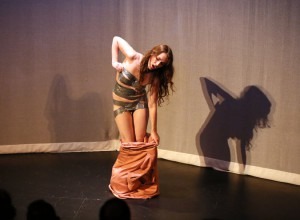 A new use for duct tape in opera, the genre that can be dignified or outlandish makes me feel like we've now seen it all. Atthis by Georg Friedrich Haas, is an opera based on writings of the Greek poet Sappho, depicting a fraught relationship between the poet and a student. Ms. Greif, soprano, said in an interview after the end of the run of Atthis, "There could be numerous occasions to be nude in opera. But I thought this one was especially fine on so many different levels."

"The soprano came to the front of the stage stepped out of her dress and began to tear off the metallic-looking strips of duct tape that girded her naked torso— a close-up of what must be one of the most searingly painful and revealing operatic performances in recent times," wrote The New York Times. Sounds like it!

Several orchestras are experimenting with putting large screens onstage for projections. The Minnesota Orchestra recently performed a work by Kevin Puts, his Symphony No. 4, From Mission San Juan, a multimedia installation. Sensing devices and sonic inputs gather live data that triggers visual images specific to this music, which are projected on a backdrop behind the orchestra. A performance was free to the public— part of the Northern Sparks Arts Festival hosted by the University of Minnesota—an overnight of arts exhibits and presentations both inside and out in different venues all over the city. Even my son and his friends were talking about it!

There are several artists who are extending the boundaries of their playing, "crossing over" into world music like Yo Yo Ma and the Silk Road Ensemble and more popular music such as Maya Beiser, cellist. Singers Andrea Bocelli and Sarah Brightman, violinist David Garrett, and Stjepan Hauser and Luka Sulić of 2Cellos are the rage.

Still there are classical musicians and loyal audiences that feel degraded by the popularization of the art. Starting with the indignation of cell phones ringing in the concert hall and the ongoing subject of the dress code, behavior code, clapping code and maintaining silence code, feathers are ruffled at the slightest deviation from tradition.

There has always been a place for experimental music, which at times has caused riotous reactions as far back as Stravinsky's Rite of Spring premier, but other genres have been able to evolve into contemporary arts. How does classical music shed the label of being stuck in tails in the distant past? This May there was proof that it is possible—even without the gimmicks, technologies and stunts. Washington D.C's Kennedy Center Concert Hall was packed with all types—young and old, dressed up and dressed down, novices and aficionados. The audience roared with joy after the performance. Arvo Pärt's music, performed by the superlative Estonian Philharmonic Chamber Choir, and the Tallinn Chamber Orchestra, is proof that contemporary music can be riveting and moving. So it is possible. The two opposing camps can unite.

Lady in the Black Dress
2Cellos