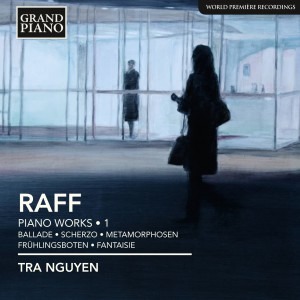 Frühlingsboten, Op. 55
No. 4 Unruhe: Allegro
Tra Nguyen, piano
World Première Recordings
From Raff – Piano Works Vol.1 (2012)
Released by Naxos
Raff : Frühlingsboten, Op. 55 – No. 4 Unruhe: Allegro


Although Raff is remembered primarily as one of the foremost symphonists of his day, by far his largest output was for the piano. The three works recorded here date from his early years in Weimar, and include the newly discovered Fantaisie. One of Raff's first successes, Frühlingsboten portrays nature in many-layered miniature scenes. The Drei-Klavier-Soli concludes with one of Raff's greatest piano pieces, Metamorphosen.
More about Raff (1822-1882):
The reputation of Joseph Joachim Raff was once so high that during the 1860s and 1870s he was regarded by many as the foremost symphonist of his day. Born in Switzerland to a German father and Swiss mother, he gave up a promising teaching career to concentrate on composition, which reduced him to penury despite encouragement from Mendelssohn. Liszt was another early idol and lasting influence; Raff walked for two days through pouring rain to attend a recital by the great piano virtuoso in Basel in 1845. Liszt was so impressed with the young man that he took him with him when he returned to Germany and went on to help the destitute Raff find work in Cologne and later in Hamburg. In 1849 Liszt gave up concert performance to concentrate on composition and he invited his protégé to join him in Weimar. From 1850 until 1856 Raff was part of Liszt's household there, acting as his amanuensis. Although the relationship became increasingly strained owing to, as Raff saw it, his mentor's overbearing musical personality, his time in Weimar saw him emerge with an individual musical voice, eventually positioning himself midway between the relative conservatism of the Mendelssohn/Schumann tradition and the revolutionary camp of Liszt and Wagner. Entirely self-taught, he gradually overcame the poverty of his early life in Switzerland and Weimar (where he was once briefly imprisoned for debt) and was able to support himself modestly in Wiesbaden as an independent composer for the next 21 years through teaching fees, his actress wife's salary and the income from his increasingly successful compositions. His breakthrough came in 1863 when both his First Symphony and a cantata won major prizes. From then on his reputation rose inexorably until in 1877 he became the founding director of the prestigious Hoch Conservatory in Frankfurt. Although primarily known, then as now, as a symphonist, Raff was prolific in most genres; operas, choral works, chamber music and songs abound in his catalogue but by far his largest output was for the piano: there are over 130 works for the instrument, many of them with multiple movements or numbers.
credit: Naxos