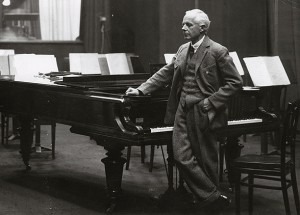 Béla Bartók's Concerto for Orchestra challenges the educated listener on several fronts, starting with the title itself. A concerto is a work for soloist and orchestra (or, perhaps, soloist versus orchestra!). What are we to think of a work where the orchestra is also supposed to double as the soloist(s)?

Bartók, in titling the work, looked at how the instruments were treated within the orchestra. Each section trades off becoming "the soloist" – with writing that makes the section show off as both a soloist and as a virtuosic player.

The work was commissioned by the Koussevitzky Music Foundation in 1943 and given its première with the Boston Symphony Orchestra, led by Sergey Koussevitzky, in December 1944. The Concerto for Orchestra was one of Bartók's last works before his death of leukemia in September 1945.

The piece, overall, is a dark work. The first movement is severe, the third movement Elegy is a song of death, and it is only the second movement that shows a lively sensibility. Although the last movement begins as a quick Presto with dramatic statements, by the end, the darkness has returned.

The second movement, familiarly called the "Game of Pairs" should better be known through Bartok's own title for the movement, the "Presentando de coppie," or "The Presentation of the Couples."

In this movement, starting with a stately drum beat, different pairs of instruments enter sequentially. The first section moves up through the woodwind section: bassoon to oboe to clarinet to flute. The second section starts with the trumpets, first with then without mutes, the trombones, and then the horns. The bassoon begins again to start the third section, and, although much of the music is the same as the first section, the accompaniment changes and nearly the whole orchestra gets involved. The soloing pairs always remain at the forefront until the movement closes with the return of the stately drum beat.

Bartók: Concerto for Orchestra: II. Giuoco delle coppie: Allegretto scherzando (Baltimore Symphony Orchestra; Marin Alsop, cond.)
In this work, Bartók changes the audience's relationship to the orchestra. In casting each of the sections as a soloist/duetist, Bartók wants the audience to look beyond the front row string section. The string section for this movement functions only as an accompaniment and percussion section. It is the woodwinds and brass that have the interesting melodies and the chance to shine as soloists.