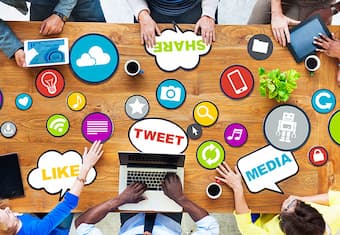 Some years ago, when I was working on two of Rachmaninoff's Opus 33 Etudes-Tableaux for a performance diploma, I posted on Facebook a screen shot of a passage which was giving me some issues and asked if anyone had some suggestions for better fingering scheme. The renowned British pianist Peter Donohoe very kindly chipped in with a suggested alternative fingering. On practising the passage again, I found Peter's suggestion worked for me and I was soon able to play the passage comfortably and fluently.
Sergei Rachmaninoff: Etudes-tableaux, Op. 33 – No. 8 in G Minor: Moderato (John Lill, piano)

Social media platforms like Facebook or Twitter and online forums can be very useful to musicians, whether amateur, student or professional, and music teachers, and the free exchange of advice and ideas can be both instructive and supportive, as well as offering the opportunity for lively discussions on a wealth of music-related matters.
Online groups offer a forum for sharing resources too – on repertoire, practicing, recording, teaching, music exams, running a teaching practice, professional development, and much more. Amateur pianists who may not have regular access to a teacher, or who simply want an alternative view, can find much support and inspiration in these groups. Seemingly intractable issues of technique, for example, may be solved by sharing the problem with others, and a forum will very often throw up a number of suggestions, as opposed to a single one, as people share their advice and experience. Of course, it is possible to be overwhelmed with advice and so one needs to be able to filter out what is likely to be useful, and what is not.
During the pandemic, many of the online groups for pianists to which I belong became a place where people shared recordings made at home, sometimes 'finished', performance-ready pieces, but more often than not work-in-progress on which other members were invited to comment. Such commentaries offered much-needed support for those who were missing regular contact with a teacher or other pianists. Thus, these online groups offer social as well as practical value to musicians of all levels and tastes.
Connecting with other musicians is important for staying motivated and can make one's practicing and musical study more interesting. Being part of an online community is really important for a musician. It not only enables you to share knowledge and resources, but also offers opportunities for interactions with like-minded people from all over the world, and, for many of us, these groups have fostered and strengthened important connections at a time when we have felt disconnected and isolated.
For more of the best in classical music, sign up to our E-Newsletter