Itamar Golan, born on 3 August 1970 in Vilnius, Lithuania emigrated with his family to Israel when he was only one year old. He began his piano studies with Lara Vodovoz and gave his first concerts in Tel-Aviv at the age of 7. He was introduced to chamber music at an early age, as he participated in Isaac Stern's young artists' program "Dwelling of Tranquility," and Golan received multiple scholarships from the American-Israel Cultural Foundation that enabled him to study with Emmanuel Krasovsky and with his chamber music mentor, Chaim Taub. While he was initially concentrating on a solo career, he decided to switch his focus to chamber music.
Golan/ Dueñas Perform Fauré's "Après un rêve"
Golan as a Chamber Musician
Golan had developed a slight memory problem at an early age, which also discouraged him from pursuing a solo career. "I opted for a career in chamber music because it allowed me to play with music in front of my eyes." Most importantly for Golan, however, was the availability of an "absolutely extraordinary repertoire, whether you take piano trios, piano quartets and more, and also lieder. And then come sonatas, which are what I am mostly doing – playing sonatas with violinists, cellists, and wind players."
Essentially, Golan was self-taught and he does consider himself an autodidact. "I had wonderful music teachers and great musicians who took care of me, but I later engaged in a sort of re-learning. I was very much on my own." In terms of technical and musical challenges, and questions about performing, "I had to find my own way and this was not easy."
Golan/Inoue Perform Ravel's Pavane pour une infante défunte & Ma mère l'oye
On Musical Partnerships
For well over two decades, Golan has partnered with the most outstanding instrumentalists of our time. For the pianist, the close interaction between partners is essential for chamber music performances. As he explained in an interview, "Over the years, I have developed marvelous musical friendships, and yes, it is all about interaction. Sharing human emotions is like being architects constructing something together. It is beautiful but it also has its difficulties."
Performing together on stage is a highly intense experience, and musical partnerships are not always easy. In fact, it is no different from other activities shared by humans. "It's not always a rosy and idealistic picture, especially when you collaborate with somebody very close." However, it also happens that one has to occasionally perform with a person whom you don't get along. Golan explained that he had been on stage with other artists and that they didn't speak to each other at all. "There was a great tension on stage, but it can still work very well musically because you don't have to be close friends to make good music."
Golan/Siem Perform Saint-Saëns's Introduction and Rondo Capriccioso in A minor, Op. 28
An Eternal Voyage
Performing works that have been in the repertoire for 10 or 20 years is always a bit of a struggle. Golan does not consciously attempt to play a work differently, "but as we get older, our understanding, our brain and soul change. The rendition does not necessarily become deeper, and for me, personally, it never gets easier. It's always a challenge and I'm always struggling with pieces I've been doing for my entire life. If it is too comfortable, something is wrong." Golan is constantly trying to find new depths and unknown secrets in the music, a process he likens to an eternal voyage.
Golan is highly revered by his colleagues and playing partners. "He is a great chamber musician", says Erica Piccotti, "so working with him was very stimulating as well as rewarding. The instinctiveness in the way we play is what bound us from the very first moment, that magic that makes it seem, to the listener, all random and that in reality has already been planned and established, but with the variable of the mood of the moment. And the great thing is to capture just that moment of the other and make it our own."
Teaching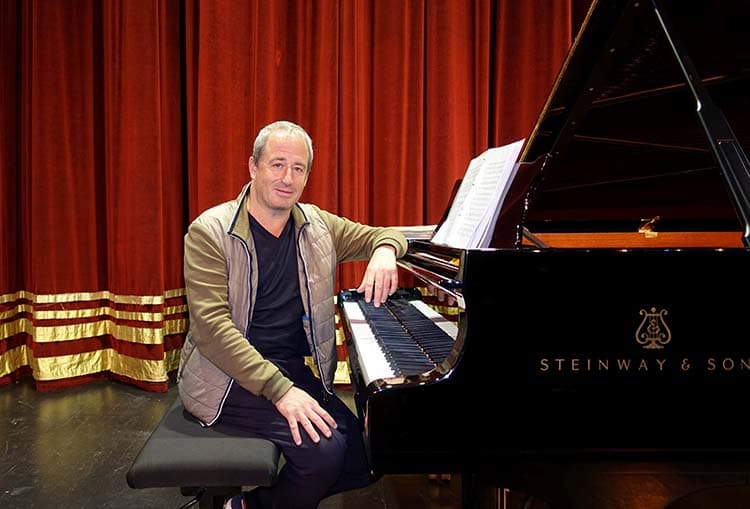 Itamar Golan has dedicated more and more of his time to teaching over the years. And it's not because his performances have fallen out of fashion. Rather, as he detailed in an interview, "I love teaching. First of all, I think it's humanistic – to pass on our experience and knowledge. Second, what I am doing more and more often – I am teaching from the piano, collaborating with younger artists. This is a priceless experience. Because we artists are so busy with ourselves, and then comes this moment when you feel that you can just give and guide for the sheer pleasure of music making." For Golan, teaching is not a generational thing as he would rather try and build something beautiful together with young students.
For more of the best in classical music, sign up for our E-Newsletter
Golan/Jansen Perform Schubert's Sonata in A Major, D. 574