The classical guitarist Miloš Karadaglić, probably better known by his first name Miloš, was born on 23 April 1983 in the Southeastern European country of Montenegro. Growing up during the Balkan wars, Montenegro was spared from direct conflict and Miloš remembers a very happy but isolated environment. "My parents aren't musicians," he explains, "but it was always the thing I was most passionate about. I thought that playing the guitar was special because it made me instantly connect with people."
Miloš had a natural aptitude for singing, but he took up guitar lessons at the music school in Podgorica at the age of 8. Miloš recalls, "I started to play the guitar because in my mind it was the coolest thing one can do. At this time in Montenegro, you could only really learn to play an instrument if you enrolled at a specialist music school. So, I passed the entrance exam and was put on a serious classical guitar programme. To tell you the truth, to start with, I found this incredibly boring and decided to leave school. I hated the idea of growing nails, learning to play scales, etc. I wanted to strum, sing and impress the girls."
Miloš Karadaglić Performs "Libertango"
On the verge of quitting his studies, his father played him an old record of Andres Segovia. "It was then that I heard for the very first time what a real classical guitar sounds like. And to me, this was a kind of magic I never forgot." For Miloš, the guitar is not only the most popular instrument in the world, but it is also the most intimate.
"When you think about it, in order to make a sound you need to directly touch the string with your own flesh and nail," he explains. "You feel the frequency resonate through your whole body because of the way you hold it pressed to your stomach. This creates such a special intimate feeling. Like in all personal relationships, your conversation with the instrument is different every day. Sometimes it flows uninterruptedly, and sometimes it's a struggle. The more I play, the more mysterious the whole thing is to me." Miloš gave his first public performance at nine and won his first national competition at 11.
Heitor Villa-Lobos: 5 Preludes: No. 1 in E Minor (Miloš Karadaglić, guitar)

Miloš does not think very highly of his initial guitar lessons. "If I would play the guitar how I have been taught," he once disclosed in an interview, "nobody would want to listen to it. If you would do everything correctly at all times, it would never go that extra mile. When I play, I always feel like I'm going to so many danger zones and so many hot spots… it's like a car race, there are always these curves, little twists, and turns that really make your head spin."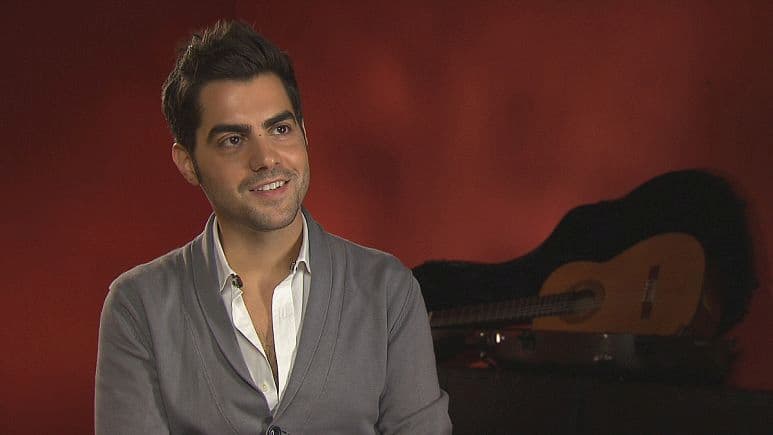 During his teenage years, John Williams became his idol. "He is my hero to this present day," he says. "The sound and precision of his playing is inimitable. My favourite recording is The Sevilla Concert. I love the repertoire on that CD, and played some of it way too early." In his home country, Miloš quickly became a teen sensation appearing on television and radio. He took guitar master classes in Belgrade, and played his first public concert in Paris at the age of 14.
Joby Talbot: Ink Dark Moon (Miloš Karadaglić, guitar; BBC Symphony Orchestra; Ben Gernon, cond.)

Miloš remembers, "coming to Paris from Montenegro in 1996 was the same as if you would now go from London to Mars. It was Christmas time … and my country just came out of the most difficult period. I suddenly found myself in a place where everything is glittering with life and festivities. For the first time really, I saw the world in full colour. I felt I was the luckiest person to be there. I thanked my guitar. The whole experience inspired me to work harder and dream bigger."
Miloš subsequently moved to London to study at the Royal Academy of Music, and he describes years of relentless hard work. "I was so incredibly focused and didn't allow myself to get lured into the charms of the great city that London is. I was young, very homesick, but I knew why I was there. I wanted to become the best musician I could be. My teacher Michael Lewin was the most genuine and wonderful guide through those years. We had to start from the basics and build again. He gave me all the tools to make music that I had in me. He is a truly great teacher and a friend." Miloš continues to be inspired by musicians, conductors, and composers, which he considers "a privilege to connect with people and discover everyone's unique gift, not just in music."
For more of the best in classical music, sign up to our E-Newsletter
Miloš Karadaglić Performs Albeniz's Asturias No. 5