For Renée Fleming, born on 14 February 1959 in Indiana, Pennsylvania, music was part of her earliest memories. "My memories so often involve someone singing," she writes, "or me singing, or someone striking the first notes on the piano that it becomes difficult even to imagine the precise place where those memories began."
The Musical Family
Both her parents, Edwin and Patricia, were music teachers and they frequently brought their work home with them. "One night," Fleming recalls, "they were singing for each other and for me and my younger sister, Rachelle, and brother, Ted. My mother played the piano and my father stood beside her, and together they sang Gershwin's 'Bess, You is my Woman Now'. That song, full of romantic yearning, was completely suited to their voices, his baritone supporting her beautiful soprano. I stretched out on the living-room rug with my dog, Bessie, and felt a kind of perfect contentment." Renée counted herself "the luckiest girl in the world to have parents for whom singing was the center of the universe.
Renée Fleming Sings Verdi: La traviata "Sempre libera"
Renée Fleming: "Late to Talk and Early to Sing"
According to her mother, Renée was "late to talk and early to sing." By the age of one, apparently, she could parrot back a string of tones and a couple of years later sang the three-part rounds of Frère Jacque with her parents. A naturally shy person, Renée loved to read, and "I would always find a book. I could read instead of sleeping, read while I walked, read at the table, read in the car." And predictably, her first appearances on stage took place in school. Renée remembers, "My stage triumph as Suzy Snowflake stood alone until Rachelle and I came back as a sister act with 'The Ugly Duckling.' In the seventh grade, I was cast as the Mother Abbess in 'The Sound of Music.' It was a bit of a stretch to play an aging nun in seventh grade, but I was the only one who could sing 'Climb Ev'ry Mountain.'" Renée was mocked, taunted, and bullied in school, and "was all orthopedic shoes and slumped posture, secretly wanting to be something very different, something dazzling."
Renée Fleming Sings Massenet's Manon, "Je marche sur tous les chemins"
Her First Teacher
Predictably, Patricia Fleming became her daughter's first teacher. As she was learning her part in a school play, her mother came and watched a rehearsal. Renée remembers, "She waited until it was over and we were safely in the car before she announced that we were going home immediately because there was a lot of work to do… She first introduced me to the idea of total performance, that singing did not mean merely standing still beneath a light, closing your eyes, and opening your mouth." Patricia taught Renée how to move when to look at the audience, and when to look away. "She would dance my steps and I would dance along behind her." Renée grew up in a community, an environment, and at a time when music was an important part of the school curriculum.
"Everybody knew that we weren't all going to grow up to be musicians, but educators appreciated that the discipline of music, not to mention the joy that understanding it can bring, is both a deepening and a broadening experience in any life. Fostering creativity is as important as any other part of the school curriculum because it feeds the soul."
Renée Fleming Sings Puccini: Gianni Schicchi, "O mio babbino caro"
First Great Break of Her Career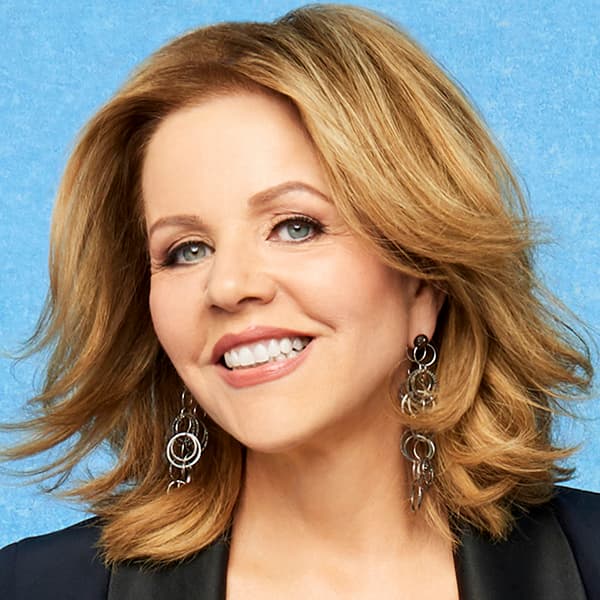 Fleming was accepted into a special composition program, and she started to write songs and poetry. Her first song "Stargazer" became a hit among friends and family. She composed a number of pieces for piano and guitar, but composition "wasn't about pleasing; it was about expressing." When it came time to go to college, Fleming auditioned for several vocal programs. She did not enjoy the process, as "I was terrible at auditioning in those days, and would walk into the room looking guilty for taking up the time of the people on the committee. I was nervous and self-conscious." Renée had hoped to be accepted into Oberlin College, and she was, however, she didn't receive enough financial aid to attend. With the top-flight conservatories out of financial reach, Fleming ended up at the Crane School of Music of the State University of New York, Potsdam, a decision that "turned out to be the first great break of my career." She started working with Patricia Misslin, a fully dedicated and talented voice teacher who also taught at the Manhattan School of Music and the New England Conservatory. At the end of her first month at school Fleming was cast as the soprano soloist in Bach's B-minor Mass. "A freshman!" she writes, "no one was more surprised than I at this upset."
For more of the best in classical music, sign up to our E-Newsletter
Renée Fleming Sings Strauss: Four Last Songs – Fruhling