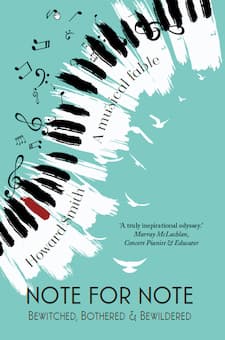 In part a memoir, 'Note for Note' is a Pilgrim's Progress for the amateur pianist – indeed, any amateur musician – and in it the author charts the pleasures and the pitfalls, the breakthroughs and "lightbulb moments" as well as the sloughs of despond when one can feel stuck in a rut due to lack of progress or having reached a plateau in one's musical development with no clear way of moving forward. These are aspects which all pianists, indeed all musicians, whether professional, amateur or student, will recognise, and Howard Smith describes the setbacks and the triumphs, small and large, in an engaging, candid and witty narrative. There's an immediacy to his writing too, which reflects his excitement in the discoveries or progress he makes: those wonderful breakthroughs when one thinks "Oh yes, now I understand!"
Francis Poulenc: Nocturnes, FP 56 – No. 8 in G Major, "Pour servir de coda au cycle" (Alexandre Tharaud, piano)

Having had some lessons as a child, Howard decides to revisit the piano in his retirement, throwing himself into his practising and musical study with all the dedication and passion that befits the word "amateur" – "one who loves". That Howard loves the piano is clear from the outset: beguiled by the instrument, its literature, those who play it, the practice of practicing, and the will to improve, he sets out on the rocky road to mastery, with the support of teachers, friends and other pianists (amateur and professional). The result is a remarkably honest book that will resonate with others on the same path and will provide inspiration and practical information for those who are just starting out on the journey.
But there's more to this book than a straightforward account of his journey. Howard's intellectual curiosity and a voracious appetite for information lead him to explore music theory, harmony, improvisation and song-writing, and all his discoveries are documented within the pages of the book. Such information is explained clearly to assist the reader and because it is presented from the point of view of someone who has only recently grasped the concepts, it is easy to understand and absorb. Thus, this book is also a primer for those interested in exploring in more detail harmony, and particularly jazz harmony, lead sheets, song-writing, and the building blocks of jazz improvisation.
It's a courageous journey too. It's not easy to set oneself on a musical path such as this: playing for a teacher or in front of others at piano club or on a course, and taking practical music exams are perhaps the hardest things for the amateur pianist, yet Howard's willingness to stick to the task, tempered with a healthy dose of humility, is admirable and inspiring.
Wolfgang Amadeus Mozart: Fantasia in D Minor, K. 397 (Seong-Jin Cho, piano)

This personal testimony, written by someone who understands both the daily practicalities and exigencies of learning a musical instrument, and who also has a deep appreciation of the art and craft of music, regardless of genre, is a celebration of the wonderfully enriching experience, both physical and emotional, that music brings to so many people – as players and practitioners, teachers and listeners.
Above all, this book is a love story – for the piano and those who play it, and music and musicians in general.
For more of the best in classical music, sign up to our E-Newsletter