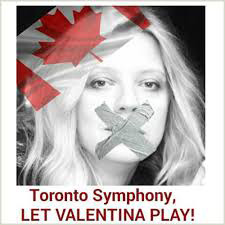 The connection between classical music and political activism of one sort or another is hardly new. When Beethoven disapproved of Napoleon's shenanigans, he promptly changed the dedication of his Eroica symphony to "the memory of a great hero." Verdi's chorus of Hebrew slaves in the opera Nabucco was a political rallying-cry against Austrian and French occupation, and countless numbers of Russian composers either celebrated or covertly rejected the ideology of the Soviet Union.

Classical music has always responded to war, political and social inequality, poverty, and other social causes. Yet it is currently perceived, according to scholars working in media studies as "politically and socially safe, and espousing a policy of comfort." In translation this simply means that concerts are presently organized to provide audiences with an idealized living room away from home. We are not supposed to ask questions concerning the representation of music or let political ruminations ruin our entertainment, but are guided to squarely focus on the autonomous musical artefact. Things tend to get dicey in a real hurry if performers violate this rarefied environment by reminding us that they are not one-dimensional entities.

Karol Szymanowski: Variations on a Polish Folk Song, Op. 10
When the exceptional Polish pianist Krystian Zimerman stopped his Los Angeles recital prior to his performance of Karol Szymanowski's Variations on a Polish Folk Theme to lament US foreign policy and announced his intention to cease performing in the country, the sophisticated LA audience told him to shut up and keep playing. Denouncing US plans to install a missile defense shield on Polish soil, the pianist told the stunned crowd to "get your hands off my country," and was promptly showered with obscenities.

To avoid such undignified exchanges, the management of the Toronto Symphony has gone a step further. Responding to a small group of vocal protesters, they have recently cancelled a concert by pianist Valentina Lisitsa and paid the artist to stay away!
You see, on her social media sites the pianist has been highly critical of the Ukrainian government and highly supportive of Russian intervention. This certainly does not represent the most popular opinion in the Western hemisphere, but does freedom of speech equate to freedom of performance? In my humble opinion, it absolutely must; there is simply no alternative! For one, there is enough political and social activism—please see below—going around to silence music forever. But even more importantly, any meaningful, informed and intelligent musical interpretation exposes a particular and highly personal point of view. It is the summary of all human experiences that eventually develops, and continuously shapes, the personality of an artist. And as audiences we have the choice to agree or disagree with a particular point of view without some bureaucratic paper pusher from the deep recesses of a human resources department making the decision for us. There is a rather pathetic appendix to this sordid story.
Stewart Goodyear, the pianist hired to replace Lisitsa was mercilessly bullied on social media into declining the engagement. According to Goodyear, "Words of bile and hatred were hurled in my direction from all sides. Suddenly I was accused of supporting censorship… What started out as one of the happiest moments of my life turned into a shattering display of mob hysteria." In the end, no pianist played and the audience stayed away; everybody lost!