Bulgaria's history of occupation by the Thracians, the Slavs, and the Proto-Bulgarians has given them a music background unlike any other in Europe. One of the relics of these old civilizations is the music where an asymmetry and unfamiliar rhythmic patterns abound. This is carried forward in the present day by composers such as Pancho Vladigerov (1899-1978), considered to be one the most influential Bulgarian composers of the modern era. His combination of Bulgarian folk and western Classical music has given him a unique sound.
He started studying music at age 11, working with the leading composer of the time, Dobri Hristov. Pancho and his twin brother Lyuben played violin with their grandfather, a mathematician, amateur chess player, musician and composer. One melody that Pancho learned from his grandfather became the core of his Opus 47 symphony, the Jewish Poem, which in 1952 was awarded the Dimitrov Prize by the Bulgarian government, the highest honour they could bestow.
In 1912, the two brothers were sent to Berlin to study at the Staatliche Akademische Hochschule für Musik. He studied composition and piano and his brother studied violin. After graduation, he worked with Max Reinhardt at the Deutsches Theater in Berlin before returning to Bulgaria in 1932. He was appointed professor in Piano, Chamber Music and Composition at the State Academy of Music. The Academy now bears his name. While at the Academy, he also toured as a pianist and composer through Bulgaria and other European countries.
Although his training in Berlin brought him into the world of Rachmaninoff, Richard Strauss and others, his musical style was his own and the combination of Romantic harmonies and Bulgarian melodies and rhythms was unique.
His 1931 work, 7 Symphonic Bulgarian Dances, Op. 23, includes this Grosser Reigen (Big Dance) as the last movement. Vladigerov reworked the piece in the 1960s for the two performers on this recording and entitled it Bulgarian Dance for Two Violins and String Orchestra. Here we can hear Vladigerov's Bulgarian rhythms come to the fore. The two violinists are in a musical dialogue at the beginning, only to be swept up in a brilliant lively ending.
Pancho Vladigerov: Bulgarian Dance for Two Violins and String Orchestra (Dina Schneidermann, Emil Kamilarov, violins; Bulgarian Chamber Orchestra; Pancho Vladigerov, cond.)

Emil Kamilarov (1928-2007) was born in France to Bulgarian musician parents. He learned violin from his father before studying in Sofia and then St Petersburg. In 1961, he won the Paganini Violin Competition in Genoa and was also awarded the Paganini Grand Prize for his playing. His wife, violinist Dina Schneidermann (1931-2016), plays the other violin part on this recording. They tour as the violin duo DEscKA, they founded the Bulgarian Chamber Orchestra in the 1960s and that ensemble is conducted here by the composer in this recording made between 1970 and 1975.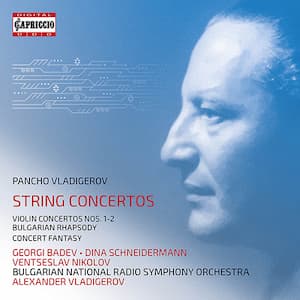 Pancho Vladigerov: Bulgarian Dance for Two Violins and String Orchestra

Performed by
Dina Schneidermann
Emil Kamilarov
Bulgarian Chamber Orchestra
Pancho Vladigerov

Official Website
For more of the best in classical music, sign up to our E-Newsletter