Costumed onstage musicians during operas or ballets are not at all new. The French seventeenth century composer Jean-Baptiste Lully often wanted musicians to be a conspicuous presence in the drama. In his work
Atys
one of his
tragédies en musique
, the singers interact with consumed dancers, and recorder and lute players. Fortunately, at least in our example, the musicians didn't have to don the colossal bouffant wigs!
Lully Atys with onstage costumed performers
Later, during the nineteenth century, Italian opera incorporated the banda—onstage bands, of wind instrumentalists, mandolin or strings actually heard by the characters in the opera as part of the scene. Both Rossini and Verdi used bandas to enhance the drama.

During the Act I ball in Mozart's opera Don Giovanni, a banda plays music for the characters to dance to. Cellist Kari Docter of the Metropolitan Opera Orchestra mentions to me that in the final scene when Don Giovanni invites the Commendatore to dinner, the orchestra members perform music from Mozart's other famous opera, Marriage of Figaro—an 'inside' joke.

It is stressful to perform onstage, Kari says, because all of the music has to be memorized. The recent production of Handel's Guilio Cesare requires the concertmaster David Chan, to play a virtuosic solo, in costume, complete with a fez on his head, while dancing and twirling across the stage with the countertenor. Probably that wasn't a class at music school.


Strauss'
Capriccio
composed in 1942 during World War II, is the story of a Countess who is torn between two lovers—a composer and a poet— set as an opera within an opera.
Capriccio
opens at the Countess Madeleine's château with a stunning string sextet, composed ostensibly by one of the characters. A debate ensues about which of the arts are more significant that of words or music. The sextet is ten minutes in length so it is played in the pit. Sometimes it is performed onstage. Like all Strauss it is highly romantic and glorious music and it has become a standard in the chamber music repertoire independent of the opera. A dreadfully difficult duo for violin and cello is performed onstage from memory as well.
R. Strauss: Capriccio sextet selection
In
Rigoletto
, Verdi uses a banda and an offstage quartet of musicians—two violins, viola and double bass—to play a minuet and a fierce folk dance called the Perigordino. Plenty of brass and percussion play onstage in other operas but Wagner's
Gotterdamerung
takes the cake with its huge brass fanfares.
‪Rigoletto Act I-(1) – Myung-Whun Chung, La Fenice 2010‬ at 7 minutes hear the quartet‬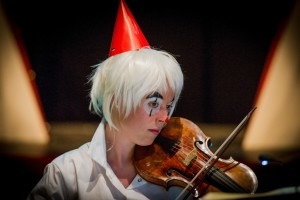 The onstage episodes are called "add-ons." Having to wear a costume, put on makeup, memorize a solo, and/or go "pit-to-stage"—when the musician has to go back and forth—the alchemy is acknowledged by a small additional stipend.

Violinist, Craig Reiss a 25-year veteran of the San Francisco Opera has had quite a number of onstage encounters especially as he also plays the mandolin. Carlisle Floyd's Susanna is the most performed American opera after Porgy and Bess. It opens with a gorgeous overture and a completely bare stage. Suddenly the scene transitions. The chorus gathers racing hither and thither, lights on poles are swung into place, and Craig has to step up a wooden footlocker careful not to lose his balance on the steeply graded stage. Looking down into the pit from this height the conductor "seems like a million miles away." He launches into a square dance—Bach's E major Solo Partita in a swing version. After the solo he pretends to take a swig of moonshine from a hefty flask and otherwise 'ham it up.' "I'll never be able to play the Bach with a strait face again," he said.

Floyd Susannah, Act One, Scene 1: "It's a hot night for dancin'"‬ selection
Alban Berg's score for Wozzeck, an atonal opera depicts harsh themes of militarism, brutality, and exploitation. He incorporates three onstage ensembles in addition to the large orchestra— a marching band in Act I, Scene 3, complete with winds, brass and percussion, a chamber orchestra, a tavern band in Act II, Scene 4 with an accordion and two fiddlers, and an upright out of tune piano. Berg even indicates in the score when musicians should exit the pit to make their way onto the stage.

There is an exceedingly difficult 12-tone duo for two violins played from within a cave. Craig and his colleague were nervously anticipating the cue. A lead soprano noticed their consternation and sauntered over with a beer in her hands, perilously close to start time. She leaned in and whispered something about offering sexual favors and drinks if they did well. The violinists could barely control their bows or contain their laughter as the curtain went up seconds later.

I asked Craig whether he had ever imagined these antics when he got the job as a young pit musician. He told me that he hadn't a clue. "It's certainly an interesting job. I've had to wear period wigs, makeup, costumes and even act, as well as memorizing difficult solos from the repertoire. But I've had the privilege of playing some of the greatest music of all time."

Wozzeck tavern band at 20 min

Opera and ballet pit musicians are accustomed to being heard and not seen. They are nestled in the sometimes cramped space in front of and below the stage and produce the glorious sounds, which waft upwards and accompany the drama. Some of the musicians prefer to be anonymous. Imagine when these introverts are asked to don a costume, a wig and makeup and appear in the spectacle.