Iranian composer Alexander Rahbari (b. 1948) had his compositional talent recognized before he was a teenager and when still a youth, agreed to a contract with the Iran Ministry of Culture to write a monthly piece of music. As a student, he also wrote many pieces for the Eurasia Quartet, as well as vocal works and compositions featuring Persian mysticism. He studied violin and composition at the Persian National Music Conservatory, before going on to win First Prize at the 1973 International Competition for Young Conductors held in Besançon, France. In 1979, he conducted the Berlin Philharmonic and became Herbert von Karajan's assistant the next year. From 1988 to 1996, he was the principal conductor of the Flemish Radio Orchestra (now the Brussels Philharmonic), and subsequently became music director of the Zagreb Philharmonic.
As a composer, he uses Persian traditional music and its rhythms for inspiration. His work My Mother Persia is a set of eight symphonic poems. The third symphonic poem of the series, Children's Prayer, is dedicated to Rahmatollah Badiei, his teacher at the Persian National Music Conservatory. In the work, Rahbari is thinking back to his youth when as a child, he was fond of group morning prayers. The prayer would be read by one child and then repeated by the others. Through the work, Rahbari conveys the children's feelings of being a bit naughty while at the same time keeping an eye on their teacher. It's a solemn and evocative piece.
Alexander Rahbari: My Mother Persia: Symphonic Poem No. 3, "Children's Prayer" (Antalya State Symphony Orchestra; Alexander Rahbari, cond.)

Composer and conductor Alexander Rahbari has impeccable conducting credentials, winning awards early in his career and leading major orchestras later in life.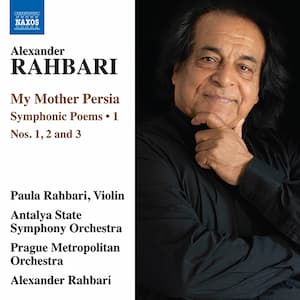 Alexander Rahbari: My Mother Persia

Performed by
Alexander Rahbari
Antalya State Symphony Orchestra

Official Website
For more of the best in classical music, sign up to our E-Newsletter