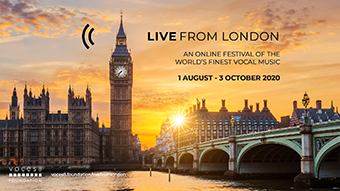 Following the success of their 'Live From Home' online performances and workshops, the VOCES8 foundation are launching a new online festival in response to the coronavirus pandemic: Live From London. The festival, featuring weekly concerts from 1 August to 3 October, includes online performances from groups including VOCES8, I Fagiolini, Stile Antico and The Swingles from the setting of the VOCES8 centre (their home base of St Anne & St Agnes Church) in the centre of London. The festival will also feature streamed performances from The Sixteen, which will take part in King's Place, and Chanticleer, streamed from San Francisco.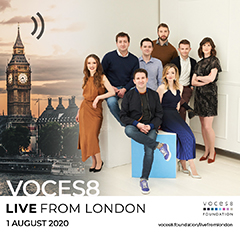 Each concert will be streamed live. Barnaby Smith, VOCES8's Artistic Director, who is singing in two of the concerts and producing the rest, hopes that the success of the festival will follow on from the momentum generated by the Live From Home series: "Live from Home has helped a lot of people through. It's what music's for, really."
"There's a lot to be organised – the commercial side of it is a lot harder than the artistic part. We're lucky to have the VOCES8 centre, so we mooted the idea of a festival and most of the groups said "count us in" and so it was from that perspective pretty easy to get it off the ground."
Tickets start at £12.50 (€14 | US$15 | AU$22.50 | JP¥1,650) for individual concerts, or a season ticket can be purchased for £80 (€90 | US$100 | AU$145 | JP¥10,500). On monetising the festival, Barnaby says "it's going to be interesting in hindsight to see how much of the interest [in music online] we'll be able to convert to people actually going the extra mile and purchasing a ticket for something they might normally expect possibly to get free on YouTube. That's going to be interesting."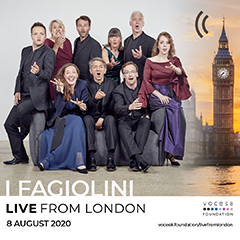 "At the moment I would say we're doing well, but of course you can always do better, so we're working tirelessly, but we've been pleased, and certainly we're looking to repeat the model which shows you straight out that it's been good enough."
How do Barnaby and VOCES8 look to assimilate this model into the future long-term?
"One thing I'm really pleased about is how much the music community has got behind the project. This idea, though, of music online being free is a hurdle that, in many ways, this lockdown has been useful for beginning to overcome.
"It's going to be a different experience – you're going to get CD-quality sound but also a lot of images you would never get from sitting in a hall, so it's going to be a different experience, and something that I think people will want, so to some extent I think live concerts will still happen but I wonder if the whole video streamed concert might come in at a level underneath it and flood the market a bit, like what streaming has done to the CD – it could be a similar thing. It will be interesting to see."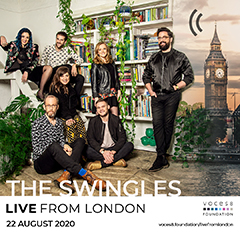 "Global warming is so high on the agenda, and by having to do what we're doing now, I think there are going to be a lot of positive things that come out of it. If you can do 30 streams a year from the Centre, and 30 fewer gigs on the road, then ultimately that will be a good thing. I think a lot more people will get to experience music that way as well.
"Classical music in many ways is all about preserving the past. I always say to people the best way to preserve the past is to make it relevant to the future, so we're always looking as far forward as we possibly can. We hope by doing that, we will preserve the great art that we make."
More details and tickets can be found here.