I have been travelling so extensively lately that I missed most of the wonderful performances that Le French May brought to Hong Kong this year. Fortunately however, I managed to attend a concert featuring Nemanja Radulovic, a young Serbian violinist that I first heard last May, when he delivered an exceptional and unusual version of Bach's Violin Concerto at La Folle Journée in Tokyo.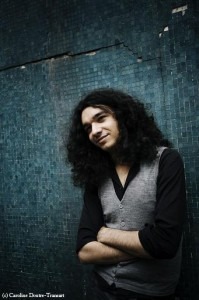 Nemanja has very unique looks: stunning long hair; dark, mesmerising eyes; a childlike, elfish face; and a smile that is charming and seductive, but innocent at the same time. It is a smile that makes you smile back instantly.

At the tender age of 24, Nemanja already has a well-established reputation. He won a number of reputable international prizes and his exposure is quite extensive in France, where he has been living since the age of 14 and where he trained at the Conservatoire National Supérieur de Paris.

For his first concert in Hong Kong, he teamed up with the Hong Kong Sinfonietta to perform Camille Saint-Saëns' Violin Concerto No. 3 in B minor. Of the three violin concertos that Saint-Saëns composed, No. 3 is probably the least known. It was written in 1880, premiered by and dedicated to Pablo de Sarasate.

The first movement carries an almost gypsy-like theme, matching Nemanja's dramatic looks. Although the music was delivered in a light-hearted manner, the passion underlying our soloist was keenly felt throughout the concerto. Nemanja fused with the whole orchestra, smiling, flirting and exchanging glances with almost every musician, from strings, to winds and ending on numerous occasions with the first violin. He became the soul of the orchestra, and practically led them.

It was a wonderful performance. Nemanja played stylishly, with a high degree of technical control and an intense expression. For the Encore, he delivered Les Furies by Eugène Ysaÿe, a highly impressive piece with unusual sounds and acrobatic notes.

Following the concert, I went to the autograph session with my newly acquired CD—Les Trilles du Diable—but Nemanja unfortunately did not have time for a chat. I had hoped to learn more about this young man who could play both Bach and Saint-Saëns in such an intriguing and unique manner. Who is he? What is his inspiration? How does he go from Bach to Saint-Saëns?

Such an interesting character, with such a sublime sense of fashion—great suits for concerts followed by cool, casual outfits afterwards—stylish and thoroughly outstanding (this is my inner ex-fashion professional talking…). He is definitely an artist to be followed.


Related videos:
Sarasate – Airs Bohémiens


Bach – Partita N°2