David
Ilana and I were invited to the Silk Road Piano Festival in Xian in 2014.
Xian is famous for its thousands of terracotta soldiers buried in 210–209 BCE by a paranoid emperor, Qin Shi Huang, who wanted to make sure he would be well defended even after his demise.
A hardworking Chinese peasant discovered that treasure in 1974 and now Xian is a major center of attraction only matched by its future musicians.
And there were hundreds of them that came to play and to be listened to during the Silk Road Piano Festival.
Our hosts, Ming-Ge and Jia (Helen) Chong, mastered splendidly the intricate underpinning of such a festival that included concerts, recitals, master classes, and a competition.
During one of the master classes given by Ilana, serious, mature students were coming on the stage of the concert hall all playing various classical and virtuoso piano pieces, and Ilana was doctoring masterfully these mature musicians all hoping for a happy rendition.
A young boy, maybe 8-9 years old, with an army crew cut, a cute curious face, and vivacious eyes, was sitting in the first row of the concert hall, looking intently from right to left, as if waiting for something to happen.
And then something happened: unexpectedly and amid exclamations of Ooh! Ah! Wow! of a slightly shocked audience, the young boy, now baptized by us as David, jumped on the stage, threw himself on the piano, and played an extraordinary Chopin etude.
When finished, he turned to the audience and took a bow, and then another one, and another one, and if we would not have stopped him, he was ready to play an encore.
Of course, we have brought David on a full scholarship to Music Fest Perugia, where he played more etudes, sonatas, and even a piano movement of the Beethoven concerto.
David was accompanied by his father, a sweet, patient teacher, that David was ordering in short sentences in Chinese because David was just now starting to learn English and Italian at the same time, with great speed and surprising results.
You see, David is the best student in his school, which of course I had no doubt about, and will shortly start skipping classes because he has a life with few boundaries.
During the festival, he sat mesmerized from early morning listening to lessons and master classes and master recitals until late afternoon, never missing a musical event.
By the end of the festival, he was conducting the orchestra from his first row chair to the mixed reaction of the orchestra and conductor.
Of course we wanted to adopt David, and have him stay with us in Italy, and travel with us to Israel, USA, and Korea, which of course was impossible. But David will come back next year, probably speaking English and Italian and playing a new Beethoven concerto.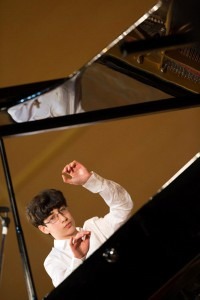 Maxim Lando
The other story concerns Maxim Lando, 11 year old son of Pipa Borissy and Vadim Lando, both musicians and owners of a music school on Long Island who came to MFP in 2014.
Maxim is an absolute TNT pianist, a prodigy that went on our local Perugia TV to give a full length interview coaching the interviewer on Beethoven, Mozart and Chopin.
The amazed interviewer asked him jokingly"when did you finish college?" and Maxim said" It's such a long time ago I forgot already " or something along these lines.
Maxim has played a splendid recital, as well as a concerto movement with our orchestra.
By the age of 11, he is a veteran pianist, having played all over the US, many times in Carnegie Hall, and also in many important cities in Europe.
Lang Lang has fallen for him and took him on tour last year to NY, London and Spain, Maxim is also coming back next year.
So if you want to hear these prodigies, come to Perugia, Italy in August 2016.
Lang Lang and Maxim Lando play Fazil Say's Mozart Rondo Alla Turc