'I think the decisive moment was my going to university', he says, 'where I joined a traditional collective called LA TUNA which sings and plays music with guitars and lutes, student songs and adaptations of other styles. To this I should add the deeply-rooted folklore of my land, the Canary Islands, to which I have always been very attached.' Like many young singers opera was far from his mind, but singing folk music was the first step on that journey. 'The fact is that while I was having fun with all this, my curiosity for the world of the voice was awakened, especially so that I could tackle challenges in songs such as "Amapola" or "Granada", which were impossible for me. That was how I came to take my first singing classes, with the intention of being able to sing popular songs such as these.'
In our age of recordings, young singers can learn much from the great voices of the past. Albelo is no exception, citing Benjamino Gigli, Tito Schipa and Miguel Fleta as major influences and part of his introduction into opera's soundworld. But he identifies two singers as key to his development, Carlo Bergonzi and Leo Nucci; indeed, it was with Nucci that Albelo made his 2006 debut as the Duca di Mantova in Verdi
Rigoletto
in Busseto. 'Afterward that really beautiful things have come to me,' Albelo says, 'among which I remember my debut at Zurich Opera House with Don Pasquale. But among the most exciting moments as a singer I remember all the times I performed the role of Arturo (from the opera
I Puritani
by Bellini) alongside the soprano Desirée Rancatore.'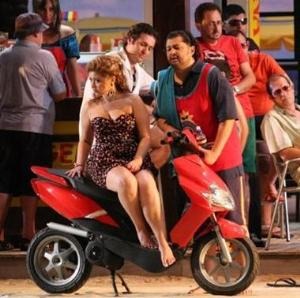 Indeed it is the Italian opera roles that Albelo has made his own. He says that he 'feels very comfortable' tackling Bellini and Donizetti roles, and although almost the only Verdi opera he sings is

Rigoletto

, he says he has a lot of fun with the role of the Duke on Mantua in that opera. 'In two years I plan to make my debut as Arnold (from Rossini's

Guillaume Tell

,)' he adds, 'in the hope that I will be very comfortable with him.' But while many opera singers are defined by one or two roles that they play to great success, Albelo has a refreshingly different point of view, saying that 'I am lucky enough to fall in love with the roles I have to take on, really I do not have a favourite role but "my favourites".

Albelo is already a successful and well-travelled musician, so his answer to my question about his future hopes was remarkably grounded. He is under no illusions about the solidity of success, suggesting that 'a professional's greatest challenge is to continue advancing and maturing in his way of doing things, as this is the way to secure both the opera houses where I have already sung as well as new theatres.' He also hopes to make a debut in America soon, and 'be able to enjoy the marvellous audiences there.'

Albelo describes his collaborations with the world's opera houses as his 'dream', but also a great 'responsibility.' Happily, he is also able to relax and enjoy himself outside music. 'I love playing the guitar, 'going diving, meeting up with my friends and my family', he says. 'As an islander, born in Tenerife, I often miss the sea – a nice bath in the ocean!' It seems his travels help him in his secondary passion – food. 'I have a restaurant in Tenerife (

El Guachinche de Adela

) which serves typical Canary Island food and although we have a great cook, I like giving him challenges with my knowledge of foreign recipes…'

Celso Albelo makes his London recital debut in September as part of the 2013-14 Rosenblatt Recitals season at the Wigmore Hall.

Rosenblatt Recitals Official Website

Celso Albelo. Una furtiva lagrima. L'Elisir d'Amore

Tenerife-born tenor Celso Albelo is one of the most exciting voices of today. Still young by operatic standards, he has already made debuts at the major opera houses in Paris, Vienna, Milan, Berlin, Zurich, Venice and Rome and is one of the most significant torch-bearers for the Italian operatic tradition of his generation. Yet when he discusses his early musical life, it seems that he discovered his vocation among less elevated musical styles.