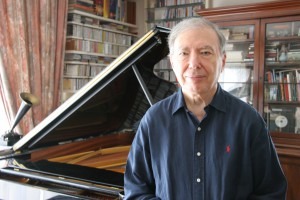 The first time I met Alain, it was in a small Parisian café, almost two years ago. Prior to our meeting, I had taken an extensive look at his website forgotten records, and fallen instantly in love with his selection of old masterpieces. Though our initial meeting was brief, it was an inspiring look at music and culture.

Over the course of our collaboration, I have been fortunate enough to meet with Alain on several occasions more, which gave me the opportunity to get to know him better. He is a soft-spoken, knowledgeable and extremely cultured gentleman – a species that is altogether rare nowadays. Before his retirement, he was an academic – a Spanish literature professor who prepared top students for ENS, an elite higher education institute and prestigious French research centre.

When he talks about music and recordings, it is clear from his ardour and energy that he is genuinely passionate about the subject – a passion that began at a very young age. His mother was a pianist, and he himself used to play regularly. At a very early age, he developed an interest in LPs, and later became interested in the potential offered by emerging technology. Following his retirement, it was a natural step for Alain to begin a second career that combined his two passions: music and LPs. His enthusiasm for the subject is so infectious that within a very short time, I came to feel as if I were reconnecting with an old friend.

Being an avid collector of old LPs, Alain's initial aim was to safeguard forgotten masterpieces and old recordings, instead of leaving them to be lost in obscure second-hand stores. It was also a way to share his passion with other mélomanes. In a sense, it represented a fight against time, and a desire to breathe new life into the music. So with the help of his son, an IT engineer, and his wife, Alain began the immense task of remastering not only his own collection, but also LPs lent to him by other collectors.

Within three years, forgotten records established a database of over 500 CDs. These included gems such as Bach's Six Cello Suites by Annlies Schmidt de Neveu, as well as unknown recordings such as those by German cellist Ludwig Hoelscher, provided by the artist's son. Serving a niche market ignored by established CD labels, forgotten records is a small family venture where everything is made to order, hand-packed and shipped along with a personal note. Downloads are unavailable, since connoisseurs like Alain prefer physical CDs.

One of the difficulties in the production process has been finding accurate information for the booklets, since details about the artists or specific recordings can be very hard to come by. However, thanks to the generosity of local collectors and enthusiasts such as Denis Havard de la Montagne, founder of Musica et Memoria, and international mélomanes such as John Berky of the American Bruchner Society, Alain has been able to compile the booklets and biographies, at least in part.

Through forgotten records, Alain has gotten to know collectors from all over the world, who have generously shared their knowledge with him. He has also connected with family members of the artists, who have sent him moving messages thanking him for reviving their loved ones.

Besides extending the forgotten records collection – which is an endless task, with a lot of beautiful music still to be reedited – Alain's newest venture involves recording unknown pieces by young musicians. Among the numerous potential projects, Alain is particularly eager to record violinist Marie-Christine Millière and pianist Chantal Riou playing sonata written by Jean Cras, a 20th century French composer and naval officer, whose compositions were inspired not only by his native Brittany, but also his sea voyages. This world première has been launched lately under the initiative of the violinist.

Another one of his special projects, launched in May, is called L'Echo des Batailles, played by pianist Daniel Propper. It was named after the Napoleonic Wars of 1800 to 1815, which inspired a good number of composers. These included Daniel Steibelt (1765-1823), whose Sonata was dedicated to Madame Bonaparte, the Grand Variations on the Fall of Paris by Ignace Moschelès (1794-1870), and The Grand Battle of Waterloo, written by Christian Friedrich Ruppe (1753-1826), just to name a few.

Most recordings are done in Alain's home on his beautiful Steinway B. In such comfortable surroundings, it is easy to imagine the bond that is formed between Alain – the producer, mélomane and connoisseur – with the artist and the music itself.

So what does Alain do with his free time? Since the creation of forgotten records, Alain has not in fact had a single holiday. He spends a lot of time listening to specific pieces played by different performers in an endless quest to discover new interpretations, colours and meaning. However, he also professes to be an avid reader, mainly of poetry but also of Biblical works, particularly Saint John of the Cross, whose work he taught during his years in academia.

Find out more about Alain Deguernel by visiting his website, forgotten records. Perhaps you may lose yourself, as I did, in the beauty of his collection.