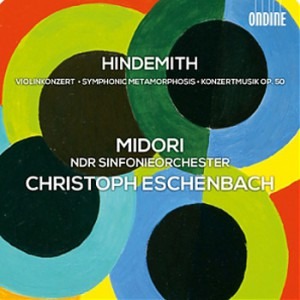 Symphonic Metamorphosis of Themes by C.M.von Weber (1943)
III Andantino
From Hindemith: Violine Konzert / Symphonic Metamorphosis / Konzertmusik Op. 50 (2013)
Released by Ondine
Hindemith: Symphonic Metamorphosis of Themes by C.M.von Weber (1943) – III Andantino

Ondine presents a release of works by Paul Hindemith (1895-1963) featuring Midori, the NDR Symphony Orchestra and Christoph Eschenbach and commemorating the anniversary of Hindemith's decease 50 years ago.

Hindemith's Concert Music for String Orchestra and Brass Instruments, op. 50, was commissioned by Serge Koussevitzky for the Boston Symphony Orchestra and its première a great success. The Symphonic Metamorphosisis one of Hindemith's best-known orchestral compositions that he even conducted 27 times himself.