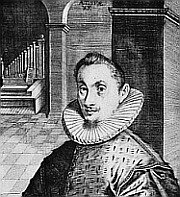 Born 450 years ago, Hans Leo Hassler (1564-1612) was the first notable German composer to broaden his musical horizon by studying in Italy. Not surprisingly, Hassler went to the city of Venice to experience the thriving musical environment surrounding the cathedral of St. Mark's. Studying under the esteemed composer and organist Andrea Gabrieli, Hassler quickly became familiar with the innovations of the Venetian musical style. Under Gabrieli, a polychoral style that freely expressed the emotional aspects of the text began to flourish. Significantly, after 18 months of intensive study, Hassler brought these emerging aspects of early Baroque music back to Germany, and he should rightfully be considered one of the founders of German music.

Hans Leo Hassler: Deus noster refugium (God is our refuge)
Once Hassler had returned to Germany in 1585, he was immediately hired as the private organist to Count Octavian Fugger. The Fugger family was an extended family clan of international mercantile bankers and venture capitalists with headquarters in Augsburg. They controlled much of the European economy in the 16th century by handling remittances to the pope for the sale of indulgences. Jacob Fugger, who ended up owning most of the city of Augsburg, is still considered to be one of the richest persons of all times. Yet the Fugger family was also known as great patrons of the arts, financing and supporting a large number musicians and events. Hassler remained in the services of the Fugger family for 15 years, and published 8 complete mass settings, all dedicated to his patron.

Hans Leo Hassler: Missa octo vocum (Mass for 8 voices)

Hassler's musical imagination was not exclusively tied to liturgical or religious practices. He also composed a large number of secular works, including Italian madrigals. But he is most famous for his German songs, chiefly among them "Mein G'müt ist mir verwirret" (My head is spinning.) It was published as part of a collection of 32 German songs entitled "Lustgarten neuer teutscher Gesäng" (Treasure Chest of new German songs) in 1601. The tune certainly caught the ear of Johann Sebastian Bach, who made subtle changes to the rhythm. Combining it with the new text "O Haupt voll Blut und Wunden" (O Head all blood and wounded) by the hymn writer Paul Gerhardt, Bach incorporated Hassler's tune into his
St. Matthew Passion
.
Hans Leo Hassler: Lustgarten neuer teutscher Gesäng (Treasure Chest of new German songs)
Today, Hassler is primarily known for his vocal music, yet he also left a substantial corpus of keyboard works of considerable scope and length. The majority of his instrumental works are preserved in the National Library at the University of Turin and include 8 toccatas, 18 ricercari, 18 canzone, 14 magnificats, an organ mass, 4 fugues and an extended set of variations on the tune "Ich ging einmal spazieren" (Once, I went for a walk.) Drawing on his vast musical experiences, Hassler composes 31 variations on the popular folk tune. Alternating simple homophonic writing with virtuoso flourishes and a wide range of rhythmic figuration, this elaborate set is the granddaddy of the variation genre.
Hans Leo Hassler: Variations on "Ich ging einmal spazieren" (Once, I went for a walk)
By 1608 Hassler was in the services of Christian II of Saxony, composing music for the capital city of Dresden. Tragically, he contracted tuberculosis and on a visit to Frankfurt to witness the crowning of Emperor Mathias in 1612, he collapsed and died. Without doubt, Hans Leo Hassler was a pivotal figure in the transition from late Renaissance musical convention to the splendor of the early Baroque.