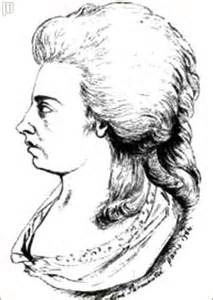 It might surprise you to know that we can trace three hundred years of outstanding women pianists. They played for pleasure, for their livelihoods and they were inspirations to composers. We would not have superstars Martha Argerich and Yuja Wang had it not been for their predecessors, to name a few— Dame Myra Hess, Annie Fischer, Clara Haskil, Lillian Kalir, Alicia de Larrocha, Gina Bachauer, Guiomar Novaes, a Brazilian, (who was considered by many to be one of the greatest pianists of the 20th Century), Lili Kraus and going back further in time, Fanny Mendelssohn and Clara Schumann.

But a little known super-star was Austrian, Maria Theresia von Paradis (1759-1824).

Sicilienne
One of my favorite encore pieces to perform is the divine Sicilienne by Paradis— a tender lilting work that cellists and other instrumentalists perform. Little did I know when I first played the piece that she was a remarkable figure in music history. Paradis was a contemporary of Mozart and Haydn. She attained significant triumphs as both a composer and performer, which as you can imagine was rare for any woman living in the 18th and 19th century. To complicate matters significantly, by the age of three Maria went completely blind. Her father, Joseph Anton von Paradis, was Imperial Secretary of Commerce and Court Councilor to none other than the Empress Maria Theresia of Austria. He named his only child after the Empress. All the advantages of the court were at the disposal of the family. Several medical treatments and experiments for her sudden blindness were ultimately unsuccessful and traumatizing for young Maria.

Paradis studied singing and composition with Mozart's supposed nemesis Antonio Salieri, later in life commissioning an organ concerto from him. Her contemporaries hailed her as an outstanding artist, who had by 1777 established a career as a pianist and singer. She became the darling of the Viennese concert halls and salons, and had over sixty concertos, solo and religious works committed to memory.

It is said that Mozart's Piano Concerto No. 18, K. 456 was written for her although there is some dispute as to which Mozart concerto was written for Paradis. Leopold Mozart in a letter to Mozart's sister Nannerl described it as a 'glorious concerto' composed for Maria Theresia von Paradis 'for Paris.' The letter seems to imply that they were unfamiliar with the piece, which would indicate that the concerto in question might have been a later work.
Paradis also performed the première of Haydn's Piano Concerto in G minor.

Paradis toured extensively making the acquaintance of all the great artists and royalty of the time even paying a visit to the Mozart family in Salzburg and C.P.E. Bach in London. She performed all over Europe as a pianist, organist and singer and it was said that she had an exceptional sound on the piano. A review in 1784 of one of fourteen concerts she played in Paris exclaimed, "…one must have heard her to form an idea of the touch, the precision, the fluency and vividness of her playing."

Paradis retired from public performances by the 1780's to concentrate on composition and teaching and to establish her own music school for girls. You can well imagine that, since she was blind, composing was extremely difficult. The problem was solved by Johann Riedinger her librettist who invented a 'composition board' for her.

Paradis was a woman artist way ahead of her time. Her legacy was to establish the device for others who were blind so that they too could write music. She also helped "the father of the blind" Valentin Haüy, found the first school for the blind, which opened in 1785. (Louis Braille became a student there.)

Paradis is mentioned in the well-known fictionalized movie Amadeus. Salieri and Mozart, portrayed as rivals in the movie, vie for the position to teach the niece of Emperor Joseph II. During the film Antonio Salieri claims that Mozart molested Paradis during a lesson. The revelation is of course a ruse by Salieri to gain advantage over Mozart.

Maria Theresia von Paradis composed several staged works, five operas, piano concertos, 12 piano sonatas, cantatas, and songs. Unfortunately, many of her compositions have been lost except the lovely Sicilienne.