In 2001, the first of English composer Peter Maxwell Davies' Naxos Quartets was completed. A set of ten quartets had been commissioned by Naxos Records and he took the opportunity to examine the string quartet as a whole and to use the entirety of the 10 quartets as an architectural structure. His early quartets pay homage to Haydn and Beethoven, while other quartets use paintings for inspiration. One is dedicated to Queen Elizabeth II on her 80th birthday. Many of the quartets seem to reference the natural surroundings of the Orkney Islands, where Maxwell Davies made his home.
The final quartet, completed in 2007, brought him to a decision point – should Quartet No. 10 be a grand finale or a door opening to new possibilities? He chose the latter course and built this string quartet from modest materials. It's rather like a baroque suite, built of dances, but in this case, these are Scottish dances.
He also chose, in this final quartet, to include snippets of the nine earlier quartets but he doesn't spell these out but leaves it to the listener to discover.
The movements include a Reel, called here a 'Broken Reel' because he's fractured the normal reel rhythms. Another movement is a passamezzo, which becomes a mediation on the dance. The fourth movement ironically is named after a melody, 'Deil Sick da Minister,' written when the Scottish Protestant Church was trying in vain to ban all dance music. The quartet closes with a very post-Purcellian hornpipe. This is not the dancing sailors of Purcell's Dido and Aeneas, but sailors fighting the elements. He leaves the last word up to the listener: 'When it becomes clear how the movement might finish, the resolution is left to the listener's imagination: the dance is simply stopped, with a suspended gesture.' And so Maxwell Davies closes a grand commission – with an invitation to continue the dance, continue the conversation.
Maxwell Davies: Naxos Quartet No. 10 – V. Hornpipe Unfinished: Allegro Moderato (Maggini Quartet)

The Maggini Quartet is considered one of the leading British string quartets. They have been involved in the Naxos Quartets project from the beginning, giving not only the premieres of the works but also being on every recording.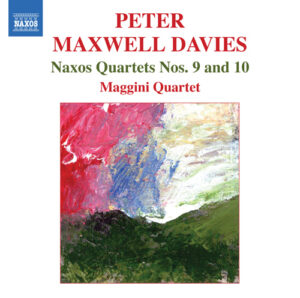 Maxwell Davies: Naxos Quartet No. 10
V. Hornpipe Unfinished: Allegro Moderato

Performed by
Maggini Quartet

Official Website