If you're a cellist, and particularly if you're early in your cello education, the thing you need most is an example. Actually seeing how a cellist plays the instrument, how she moves her bow, and what her fingers do is an important supplement to your own work in learning the instrument. However, it's much easier to find someone playing the Elgar Cello Concerto than your first- or second-year repertoire.
Who are the "Cello Kids"?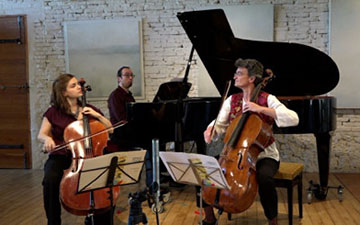 In 2019, a talented trio from the Conservatoire Maurice Ravel in Paris, cellists Valérie Aimard and Antonina Zharava and pianist Cédric Lorel, formed the group Cello Kids, went to the south of France and recorded some 150 works from the basic student cello repertoire.
Valérie Aimard has long experience as chamber musician and teacher at the Paris Conservatoire, was a lecturer in Teacher Training in the Pedagogy Department for some 10 years and teaches chamber music in the Classical and Contemporary Instrumental Disciplines Department. She has a background in French music; Antonina Zharava, from Belarus, has a background in the Russian tradition so they bring a wide range of repertoire to Cello Kids. Supporting them both is pianist Cédric Lorel, who brings not only his award-winning sight-reading skills but also his deep background as accompanist at the Conservatoire. In addition to his classical training, he's also an accomplished member of Quatuor Caliente, a tango ensemble.
What to expect in the recordings?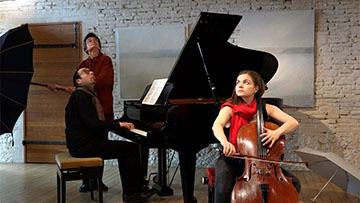 Their production is very straightforward. A single point-of-view camera allows the viewer to watch what they need – fingering, vibrato, bowing, or even, how to keep your face straight while performing. Behind the cellist (either Valérie or Antonina), Cédric provides the accompaniment. Many of the pieces are short – 1 or 2 minutes – and give the cello student one interpretation of a work. To keep things light, Cello Kids augments their performances with little accessories – stuffed toys or butterflies or rubber ducks or extravagant boa scarves. Valérie said thinking up and adding those accessories was a very fun part of the whole venture.
Cello Kids recorded the first 4 years of cello repertoire and then extended it up through grade 8. In 2019, they recorded their 150 works in two sessions: the first 80 or so in May and then the next set in September.
If you can't get to your cello teacher, Cello Kids provides the ideal visiting masterclass for you. The players bring Conservatory-level playing and professional-level production values, so you're not trying to learn your piece from non-professional playing, filmed in poor conditions. The music is clear, the hands are visible, and there's no commentary. The music becomes the language of instruction.
Inspiration vs Imitation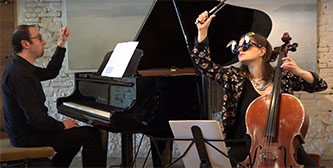 What Cello Kids wants to provide is Inspiration, not Imitation. Students should understand that what they are seeing is just one of many possible interpretations of a work and it should inspire them to develop their own performances. Just as Cello Kids uses their accessories as inspiration, students should use the performances as a balance for their own sensibilities. They should also do their own research to find out the background of the work, who the composer was, and the musical context for which it was written.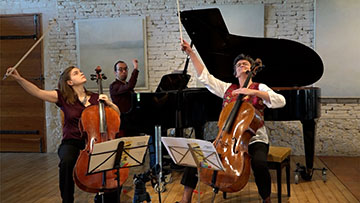 The project first went online in 2019, but it's in 2020 that it has really come into its own. With the world-wide lockdowns, viewership has trebled, and it's being looked at and used in over 40 countries. Nearly 2,000 people subscribe to their YouTube channel and Cello Kids reports that all the responses have been positive. To put it in marketing speak, it's the right product at the right time, but to put in musical speak, it's every cello student's entrée to the world of the cello from the begining, provided by the true experts in the field.