Imre Széchényi (1825–1898) grew up in Vienna in fortunate circumstances. His father was chief court chamberlain to the mother of the future Franz Joseph I and Széchényi grew up with Franz Joseph and his brother, later Maximillian I of Mexico. He had private tutors, spoke 5 languages, and had skill in music as both a pianist and composer.
He entered the Austro-Hungarian diplomatic corps at age 20 and was stationed all over Europe: Rome, Stockholm, Frankfurt, Brussels, Paris, St Petersburg, Naples, and then Berlin. He met Johann Strauss in St Petersburg and they remained lifelong friends.
His international touch was also a part of his music, composing songs in Hungarian and Italian and taking up the dances of the day (polkas, mazurkas, gallops, czardas. and waltzes) in his piano music. His dances were popular and Széchényi was known to arrange concerts of them for invited guests.
The first waltz we know of him was composed before he went to Russia. Le Château de Celles (The Castle of Celles) was written in 1854 and is dedicated to Countess Marie Isabelle de Liedekerke-Beaufort, (1811–1903), who was married to Hadelin de Gavre, count of Liedekerke-Beaufort de Celles (1816–1890), who owned the castle. Széchényi had met the family in Rome where the count was also a diplomat.
The Castle de Celles referred to in the title is the Château de Vêves, just outside the village of Celles in Belgium. There has been a castle in this area since the 7th century. The current castle dates from around 1410 when the Beaufort family took control of the area.
The little waltz is pleasant without really being memorable, but the influence of the music of the Strauss family can clearly be heard, not only in the build-up of the melody but also through the use of periodic tempo changes in the music.
Imre Széchényi: Le Château de Celles (The Castle of Celles) (István Kassai, piano)
This 2021 recording was made by Hungarian pianist István Kassai, an award-winning pianist, music researcher, and editor.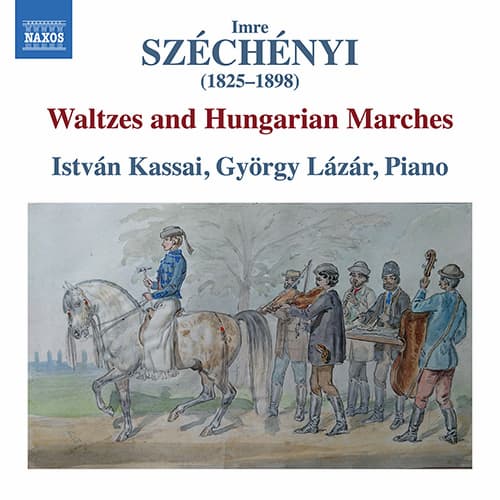 Imre Széchényi: Le Château de Celles

Performed by

István Kassai

Official Website
For more of the best in classical music, sign up to our E-Newsletter