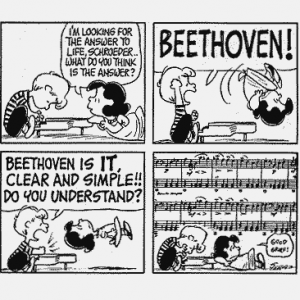 Musicians are a rare breed. I'm the first to admit life with me might be a bit challenging. Being a professional musician isn't all fun and games. It's not an avocation, nor a vocation it's our way of life, our essence, our identity. If you are planning to date or marry a musician here's fair warning.

Don't expect to be serenaded with lovely tunes every morning (my husband did!) More likely you will hear innumerable practice sessions, tedious warm-up exercises, and musical phrases repeated over and over and over. In fact, you might hear one passage hundreds of times until it's just right. It's no exaggeration to say every note is scrutinized as evidenced by my well-worn music to Beethoven's Cello Sonata Op 5 No. 1.

Beethoven: Sonata in F for Cello and Piano Op. 5 No. 1 (Guido Schiefen, cello; Alfredo Perl, piano)

You may be recruited to carry larger instruments—lift them in and out of cars, up icy staircases, in and out of airplanes, and carry it through endless cement corridors backstage. There is one consolation, someone will inevitably tell you how much they enjoyed your concert.
You'll be required to stay awake through hundreds of concerts especially if your partner is performing. Either that or you'll have to perfect expensive sleeping. My husband is able to snooze without a peep, sitting upright, even during a contemporary, colorful piece like Bartók
Concerto for Orchestra
, undetectable except by me who will complain about how much the ticket cost only to have him sleep through it. To be fair, he sleeps at the theater and at the cinema too.
Bartók: Concerto for Orchestra
You'll have to endure the pre-concert preparation, and anxieties. Be quick with sympathetic murmurs to respond to comments such as, "Oh! I sound like CRAP today!" "I'll never nail this passage!" and "I need a degree in calculus to figure out the rhythm in this piece!" But don't say, "you always play well" or "you've done this so many times!" No matter how much cussing you hear from the practice studio do not interrupt, nor interject if it's quiet. The musician might be perfecting a pianissimo passage, or writing markings in the part. My son used to barge into my studio thinking I had finished. My startled gasp made him laugh.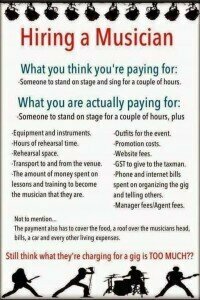 After the performance, you'll need a thick skin to reassure your partner. They'll ask, "But was my performance any good? How was it really?" Meeting countless artists and conductors behind-the-scenes is a perk but be prepared that no-one will notice you, and your performing partner, caught up in the after-concert magic, might forget to introduce you or even forget your name.

Beethoven or Stravinsky will always come first. You'll be turning down invitations to parties and gatherings, or you'll attend alone. There will be innumerable times you'll hear, "I'd love to go but I really have to practice!" Avoid the retort, "But you've played the Beethoven Sonata so many times!" Know that there are always passages to go over, fresh interpretations and deeper emotions to convey, and innumerable ways to express a phrase.

Listening to music means something quite different to a musician. Melodies swirl in our heads all the time. There are tunes we can't seem to get out of our heads. We call them 'earworms'. Often, we are practicing, envisioning in our minds how a piece should go. Especially before a performance, be prepared to turn off whatever you are listening to so the mental imagery can continue right up to concert time.

You'll find the music piped into restaurants, elevators, or at functions will be especially irritating to your musical partner. You may not even notice the sounds, but your partner can't NOT listen to music in the background.

There will be "inside" puns, viola jokes galore (How do you keep your violin from being stolen. Put it in a viola case), and some you'll enjoy like this one.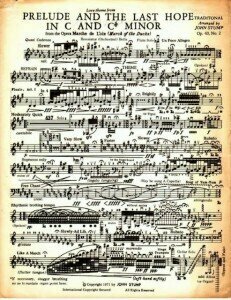 Don't be jealous of him or her because they are doing something they love. Understand that even though people will ask your partner to perform for free or for next to nothing, musicians believe in the power of music to change lives positively, and we will accept all kinds of programs in humble venues and with poor conditions to play for people who otherwise might never experience classical music. Musicians have altruistic natures. Expect to attend weddings, funerals, church services, and fund-raisers.

On the other hand, be honest if you think a presenter is taking advantage of your partner. No-one would ask a doctor or plumber for free services. Playing for "exposure" is often an excuse to ask a musician to play for nothing, or very low pay, not taking into account the incalculable numbers of hours of practice and preparation it takes to reach a skilled level.

Every musician goes through many stages of accomplishment from beginner to amateur, from starving artist to superstar. Wherever they are in their development, they have something to offer. Encouragement is appreciated; applause is deserved, every step of the way.

Playing a musical instrument is physically, emotionally, and mentally challenging. It's like learning how to speak another language. It involves not only reading manuscripts, and coaxing sounds out of our instruments but also how to be expressive, focused, disciplined, motivated, and committed, and master skills such as imagination, communication, and coordination. Like athletes, we have to stay in shape. Playing an instrument takes stamina. Talent is not enough to succeed as an artist.

Still want to have a relationship with a musician? Terrific. We need your understanding and support!