Parisian composer and virtuoso pianist Charles-Valentin Alkan (1813-1888) wrote some of the most fiendishly difficult piano music of his time. He entered the Paris Conservatoire at age six and had a long public career. After 1848, however, he became quite reclusive, while continuing to write piano music.
He wrote two large-scale sets of etudes, one in major, Op. 35, and the other in minor, Op. 39. Not études in the Chopinian sense, these sets include his extended works, such as his Symphony for Solo Piano, Op. 39, nos. 4-7, and his Concerto for Solo Piano, Op. 39, Nos. 8-10, both of which are some of his best-known works and both of which are of great complexity and technical difficulty.
His Douze études dans tous les tons mineurs (12 Studies in the Minor Keys), published in 1857, includes as No. 11 of the études, a fifteen-minute work entitled 'Ouverture'. The Overture is not what we would expect from the orchestral concert overtures, which always seems to be telling you a story. This overture seems to place you in the middle of the action immediately, constantly asking for your attention. It opens with a Maestoso section, almost like a silent movie in its attention-getting repeated figures. The next section, a somber section in a dotted rhythm, changes the mood entirely. As the work progresses, we have three contrasting themes, the last quite dark in nature, before we have an affirmative return at the end.
Alkan: Ouverture, Op. 39, No. 11 (Bernard Ringeissen, piano)

The pianist, Bernard Reingeissen, started playing when he was seven. He entered the Paris Conservatoire at age 12 and won the Premier Prix when he was 16. The 1950s and 1960s were his time to win at music competitions while also establishing his performing career. He is known for his recordings of Alkan and Chopin.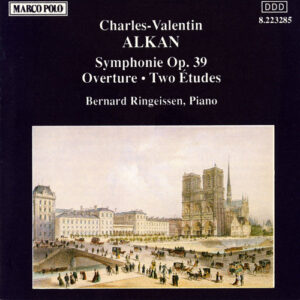 Alkan: Ouverture, Op. 39, No. 11

Performed by
Bernard Reingeissen

Official Website