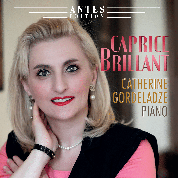 My new album, 'Caprice Brillant' comprises a study of caprices, both well-known and unfamiliar, by Bach, Beethoven, Mendelssohn, Jaëll, Liszt, Moszkowski, Clementi, Kapustin and Godowsky.
The inspiration to build a collection of caprices grew out of one particular piece of music which I absolutely adore. For many years, I have had Moszkowski's Caprice Espagnol in my repertoire. I often play this piece as an encore in my concerts. The piece fascinates me with its charming, virtuoso character, its folkloristic elements and the way it is filled with Spanish colouring. One day, whilst I was marvelling at this work, I had the idea to compile piano capriccios by different composers together for a CD.
I am attracted to the capriccio for a variety of reasons. Similarly to toccatas, scherzos, preludes and fantasies, the capriccio is a free form, giving the composer the opportunity to improvise. The more extraordinary they are, the more they deserve their name. I enjoy the capricious, often humorous character that is characteristic of the capriccio, and I also appreciate the narrative qualities that some caprices possess.
The project of collating various piano capriccios across the centuries was hugely enlightening, as I made many musical discoveries along the way. The first discovery was Alfred Jaëll's Caprice Brillant, which is inspired by Verdi's "La Traviata". I was so fascinated by the caprice that I began to research Jaëll, an Austrian composer and pianist whose personhood and work I was not familiar with prior to the project. As a respected pianist, he gave many concerts in the 19th century. He lived in Paris and was friends with Liszt, amongst other famous composers. His numerous piano compositions are characterized by brilliance and virtuosity. It is a true shame that he is so rarely played today.
Jaëll: Caprice Brillant Op. 63 sur "La Traviata" nach Giuseppe Verdi
Elsewhere, I also discovered Jean-François Dandrieu's Le Caquet, which is a typical capriccio of the Baroque period. The piece, which imitates the clucking of a chicken, was masterfully arranged by L. Godowsky.
Whilst I was researching caprices I made sure to investigate modern pieces as well, as I knew that I wanted to record both new and older works in order to provide a stylistic contrast within the album. I discovered Capriccio Op. 71 by Nikolai Kapustin (born 1937). I didn't know this work before, even though Kapustin is a composer with whom I have worked with a lot. Previously, I have recorded all eight of his concert etudes and his 24 preludes cyclically for the record company NAXOS (2011). Kapustin is a Ukrainian composer and jazz pianist. His entire compositional oeuvre fascinates me again and again: His compositional work is so impressive, with his remarkable synthesis of jazz and classical. On the one hand, there is his masterful juxtaposition of swing, ragtime and boogie-woogie, whilst on the other hand, there is his virtuoso pianism and his excellent compositional language which is similar to that belonging to the great Russian composers like Sergei Rachmaninoff and Alexander Scriabin.
In Capriccio Op.71, Kapustin even makes use of twelve-tone composition techniques. Kapustin's work was not previously available as notated music, so for my recording I mostly worked directly with the composer's manuscript.
As I went about researching caprices, I built a sizeable library of caprices. From these, I had to decide upon which pieces would end up in my album Caprice Brillant. Firstly, I selected 20 pieces from my collection, and then I narrowed this selection down to 10 pieces. I chose the ones that are especially close to my heart and which, from a pianistic point of view, fit me best.
Caprice Brillant is ultimately a very personal selection of caprices, which contains both well-known works and rarely played rarities from piano literature. I had so much fun playing with the caprices and recording them on this CD. When I look back on the project, I am struck by how impressed I was on a daily basis, as I encountered these fascinating piano fantasies with their joking, capricious characters. The caprices I came across are all inspired by life, mood and changes of mood and this is reflected in the erratic music. I am convinced that capriciousness plays an important role in music, just as it does in life, and is an integral part of musical interpretation practice.
Catherine Gordeladze new release, 'Caprice Brillant', (Bella Musica / Antes Edition) is out now. For more information on Pianist Catherine Gordeladze, please visit www.catherinegordeladze.de.