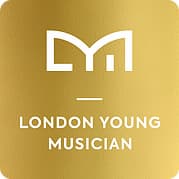 Whatever you may feel about music competitions, they are an established part of the music world, and for young musicians in particular an important means of benchmarking success and showcasing talent. For those who wish to play professionally, the publicity and performance opportunities which competitions provide can be invaluable in launching a musical career.
London Young Musician is an online international seasonal music competition for young musicians under 28, and is open to all classical musical instruments and vocal. The competition was founded to support the worldwide learning and creation of classical music, to provide pathways and resources to build higher musical skills, and to encourage progress. Performances are judged by a jury of leading musicians and pedagogues, many of whom teach at internationally-renowned conservatoires and music colleges, including the Royal Academy of Music, Trinity-Laban Conservatoire of Music and Dance, and the Royal Northern College of Music. Thus competitors can be assured that their performances will receive valuable critique and feedback from highly experienced professionals to help them progress in their musical development.
The event takes place over four seasons and because it is an online competition, it is unaffected by covid-restrictions and is open to participants from around the world. And in keeping with its ethos of encouraging progress and building musical skills, the competition is open to candidates from the earliest level (Grade 1) right through to a Concerto category, thus giving early and intermediate-level musicians valuable experience in preparing their music for public performance. There are also chamber music classes and categories devoted to specific periods (e.g. Baroque, 20th century, contemporary) and genres (Etude, Sonata, Concerto), which gives candidates an opportunity to showcase their talents in the repertoire and genres they most like. Candidates can also enter multiple categories/instruments.

Prize winners are awarded a medal and certificate, and top prize winners have the opportunity to perform in an online concert and be interviewed by a leading online music publication. There is also a Young Musician of the Year competition, open to prize winners from each season.
Many young musicians have been denied performance opportunities – either through graded music exams or music festivals – during the coronavirus pandemic. Such events are important not only in benchmarking progress and personal fulfilment, but, more significantly, in providing motivation to continue on the path of musical development. London Young Musician gives young musicians valuable performance experience, while its ranking structure motivates and inspires them to keep playing. The competition is organised in partnership with Chimes Music, True Art TV (which hosts online music performance and competitions) and the World Musicians League.
For more of the best in classical music, sign up to our E-Newsletter
London Young Musician Showcase